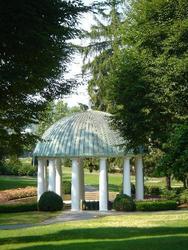 Life is hectic these days. Sometimes people don't want to be too ambitious in their travels. Spa-going is a great way for people to take some time off, relax, and recharge without the crazy schedule that some travel entails.
Los Angeles, CA (PRWEB) June 19, 2008
VirtualTourist.com, the largest online travel research site and travel community in the world, reveals its picks for the top ten great American spas. Of the list, VirtualTourist.com general manager, Giampiero Ambrosi says, "Life is hectic these days. Sometimes people don't want to be too ambitious in their travels. Spa-going is a great way for people to take some time off, relax, and recharge without the crazy schedule that some travel entails."
1) La Quinta Resort and Club; La Quinta, California
Just outside of Los Angeles, the stars here aren't only in the sky. Aside from the beauty and history of the grounds, the spa is unmatched for excellence. Signature treatments like the Desert Lavender Wrap contribute to its stellar reputation.
2) The Greenbrier; White Sulfur Springs, West Virginia
For a truly classic spa experience, nothing beats the Greenbrier. Dating back to the late 1800s, the Greenbrier has hosted presidents and was even owned by the U.S. Army for a time. Originally decorated by famed designer Dorothy Draper, the facility retains much of its traditional feel.
3) The Standard; Miami, Florida
On the opposite end of the spectrum, The Standard in Miami is as modern as it gets. In the "we think of everything" category, they've even designed certain treatments to correspond with the phases of the moon.
4) Chena Hot Springs Resort; Fairbanks, Alaska
The weather outside may be frightful, but the hot springs are absolutely delightful. If you see something strange going on in the sky at night, don't blame it on the waters; the region is famous for aurora borealis sightings.
5) Miraval Resort; Catalina, Arizona
From the freezing cold to the driest heat, Miraval is where spa addicts go when they want a truly Zen experience. Reiki techniques, reflexology, and even acupuncture are all available at this desert paradise.
6) Grand Wailea Resort Hotel & Spa; Maui, Hawaii
A paradise in paradise, this spa takes into account the area's natural resources (and natural hazards) to accommodate guests. Treatments here include sea shell massages and sunburn relief for the body.
7) Wentworth by the Sea; New Castle, New Hampshire
Like a tough New Englander, this resort has been around forever--or at least since 1874. Although they're located in New Hampshire, their spa treatments rely heavily on the Indian Ayurvedic tradition.
8) Elms Resort and Spa; Excelsior Springs, Missouri
Where else in the U.S. are you going to find a spa that offers "Rainforest Therapy"? Real spa aficionados will also want to visit the nearby "Hall of Waters", an art deco building that was once the area's premier spa facility.
9) Lake Austin Spa Resort; Austin, Texas
Those who really want to unwind in elegance won't find a better place to do it than Lake Austin Spa Resort. Treatments like the Four-Handed Massage and the Coffee Scrub keep clients coming back.
10) Fordyce Bath House; Hot Springs, Arkansas
It's a museum now, but the stunning Fordyce used to be the place to go to take in the region's natural healing waters. If just looking isn't enough for you, head over to the Buckstaff Baths where you can experience the effects of the area's H2O for yourself.
About VirtualTourist.com:
VirtualTourist.com is one of the largest online travel communities in the world and a premier resource for travelers seeking an insider perspective on travel information, from Las Vegas hotels to New York City restaurants. At http://www.virtualtourist.com, real people share real advice on places they've traveled as well as their hometowns; they research and plan trips, and they interact with other avid travelers via travel forums and email; over six million travelers use the site monthly. VirtualTourist boasts more than 1.6 million travel reviews and 3 million photos on more than 58,000 destinations worldwide. Unbiased, user-generated content on Hotels, Attractions, Local Customs, Tourist Traps and much more is posted entirely by VirtualTourist's more than 1,000,000 registered members from over 220 countries and territories, and the site's Trip Planner feature allows users to create custom print-and-go travel guides. Among VirtualTourist's awards and accolades: 'Sites that Changed Our World,' The Guardian; 'Favorite Website,' Newsweek; '35 Best Travel Sites,' Travel Leisure.
###