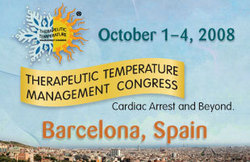 Springfield, MO (PRWEB) June 23, 2008
The 2008 Therapeutic Temperature Management Congress (TTM Congress), an international gathering of leading clinical researchers, physicians, critical-care nurses, and other emergency medicine professionals advancing patient temperature modulation therapies, is set to occur from October 1-4, 2008 in Barcelona, Spain.
Founded to facilitate the transfer of knowledge and experience in the use of therapeutic hypothermia and other temperature-based treatments, the TTM Congress unites all areas of the medical community to help ensure the best possible patient care around the world. Congress participants will examine the science behind the therapies, discuss evidence supporting improved neurological outcomes post-ischemic and post-traumatic injury, as well as collaborate on the most effective protocols used in countries around the globe, including the US, the UK, Germany, Italy, Spain, Sweden, Belgium, The Netherlands, Norway, Denmark, and China.
Special session tracks will be dedicated to neurocritical care, traumatic brain injury, subarachnoid hemorrhage, and sudden cardiac arrest. A growing list of companies -- including Cincinnati Sub-Zero (CSZ), a founding member of the TTM Congress, Alsius, Covidien, Gaymar®, INNERCOOL therapies, and Medivance® -- already have committed to offer unrestricted educational grant support. The congress has been planned and implemented in accordance with the Accreditation Council for Continuing Medical Education through joint sponsorship by the University of Massachusetts Medical School and MEDAVERA, Inc. Credit hours are available for both physicians and nurses.
Mark Beran, Vice President and General Manager of CSZ Medical, a Gold Sponsor of the October event, said, "This year's congress is driven by the exponential level of interest in therapeutic hypothermia, in particular. These treatments are helping to save lives and improve patients' overall quality of life ongoing. It's a bit humbling to be at the forefront of a cooperative effort and then be here to watch it strengthen and gather momentum worldwide. We welcome all who are interested in learning more about the issues and in having the opportunity to interact with the experts."
For a full list of congress faculty, a preliminary agenda, a detailed sponsor and exhibitor prospectus, and to register to attend, please visit http://www.ttmcongress2008.com.
About MEDAVERA
MEDAVERA, Inc. is a medical education company headquartered in Springfield, MO. The company mission is to improve patient health by identifying educational need and transferring medical knowledge with superior communication strategies and tools. For more information, please visit http://www.medavera.com.
About Cincinnati Sub-Zero
The parent of three separate divisions, Cincinnati Sub-Zero (CSZ) is a leading manufacturer of temperature management products for medical and industrial markets. CSZ Medical, a CSZ division, has delivered patient temperature management systems to healthcare professionals since 1963. The medical product line, always designed with both the patient and caregiver in mind, includes several all-in-one-system heat and cold therapy units as well as an array of warming and cooling blankets for body temperature regulation and hyper-hypothermia treatment. Please visit http://www.cszinc.com to learn more about CSZ and http://www.cszmedical.com to learn more about CSZ Medical.
Forward-Looking Statements
Except for statements of historical fact, the matters discussed herein are forward-looking, reflect numerous assumptions, and involve risks and uncertainties, many of which are beyond our control and may cause actual results to differ materially from stated expectations. We undertake no obligation to release publicly any changes in events or circumstances arising after the date hereof.
# # #