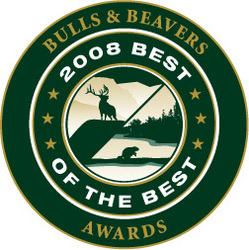 We are thrilled to give this award to an amazing property that represents quality, craftsmanship and most of all, a one of a kind location of 1100 acres bordering forest service land that is minutes away from world famous Sun Valley, Idaho
Sun Valley, ID (PRWEB) June 24, 2008
Bulls & Beavers, LLC, http://www.bullsandbeavers.com, a leading provider of outdoor-related news and services, today announced that it selected a property listed by Sherry Daech in Elkhorn, Idaho as a winner of the Bulls & Beavers Sportsman Property "Best of the Best" Award. The Junipero Springs Ranch property is a premier mountain retreat.
"We are thrilled to give this award to an amazing property that represents quality, craftsmanship and most of all, a one of a kind location of 1100 acres bordering forest service land that is minutes away from world famous Sun Valley, Idaho," said Chris Burget, Bulls & Beavers LLC president. "The listing agent, Sherry Daech, http://www.sherrydaech.com, is one of the area's top producing real estate professionals. She specializes in the area's most prestigious properties including fine homes and land like this award winning outdoor estate."
Sherry's broad ranging clientele includes some of the most well known names in the corporate and entertainment world. In addition to being the listing agent for this award, she is recognized by Who's Who in Luxury Real Estate.
"We are very selective with regards to our properties because we love to connect clients with their dream homes. This unique property is the ultimate sportsman's ranch or family compound and we are honored that it has been chosen amongst some of the finest properties in America by Bulls & Beavers as one of their 'Best of the Best'," said Sherry Daech, Broker/ Partner of McCann, Daech, Fenton Realtors LLC. "We regard Bulls & Beavers as a premier online destination for our clients and look forward to working with them for a long time to come."
Bulls & Beavers LLC intends to identify and promote select premier properties to expand its business and raise awareness among the outdoor sporting community. Sherry Daech's Juniper Springs Ranch listing is the first in a series of future Bulls & Beavers' "Best of the Best" awards. More information on the property can be viewed at http://www.600juniperrd.com/.
About Bulls and Beavers LLC:
Bulls & Beavers was founded in 2007 to serve as an online community for those passionate about the outdoors. Through a combination of expert editorial and user-generated content, Bulls & Beavers brings the "Best of the Best" to you.
FOR MORE INFORMATION CONTACT:
Chris Burget
Bulls & Beavers LLC
208-721-7670
cburget @ bullsandbeavers.com
###