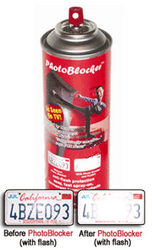 Melville, New York (PRWEB) June 27, 2008
SpyTown.com has signed an exclusive Distributor Agreement with PhantomPlate, the Manufacturer of PhotoBlocker Spray Cans to sell the PhotoBlocker Spray Cans in 14 states.
To keep up with the high demand of this product, SpyTown has brought in thousands of cans for immediate shipments. SpyTown can sell the Photoblocker Spray Cans to other states as well, but those are not under exclusive terms. The cans are sold at $19.00 each from SpyTown.com, as compared to the MSRP price of $29.00 each that Phantomplate shows on their website for the can.
A majority of red light & speed cameras utilize strong flash to photograph the license plate on your car. Once sprayed on your license plate, PhotoBlocker's special formula produces a high-powered gloss that reflects the flash back towards the camera. This overexposes the image of your license plate, rendering the picture unreadable. With PhotoBlocker, your license plate is invisible to traffic cameras yet completely legible to the naked eye.
How to Use the PhotoBlocker Spray :
Step 1 :Remove your license plate from your vehicle. Clean and dry the surface. Lay it on a flat surface.
Step 2 :Before spraying, be sure to lay something out to protect the surrounding area. Apply PhotoBlocker in flat even strokes until license plate is saturated. Allow your license plate to dry until tacky, then repeat 3 -4 times until there is a nice glossy shine to your license plate.
Step 3 :Once your license plate is dry to the touch, place it back on your vehicle and you are done.
Step 4:You are now protected. Every time you go past one of those money making traffic cameras, you have an excellent chance of avoiding a ticket.
About SpyTown.com
SpyTown is a leading international CCTV Master Stocking Distributor that sells CCTV surveillance systems, fire alarm, burglar alarm, and other Security solutions throughout the world. With more than 20 years in the industry, SpyTown provides these products and solutions to the consumer market as well as to Government, Commercial, Education, Healthcare and many other industries.
Spytown's website is at SpyTown.com
For all inquiries, please contact:
Larry Haimson, President
1227 Walt Whitman Road
Melville , NY 11747
866-779-8696 -Phone
718-709-0501 - Fax
###