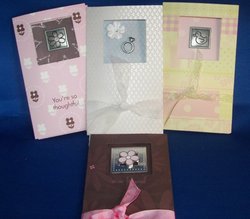 Friends and family still like receiving personal mail, and they especially enjoy receiving personal mail telling them they are thought of and appreciated, on any given day, not just birthdays and holidays
Augusta, GA (PRWEB) June 30, 2008
Fairy Tale Memories LLC today announced a unique new service for small businesses, families and Military Personnel and their families. Fairy Tale Memories will automate the way companies and people send out greeting cards to clients, friends and families by mailing out handmade greeting cards automatically for customers; the service will be of tremendous value to business professionals, Military Personnel (and their families) who are going to be deployed for any amount of time and want the convenience of sending their friends and families cards while they are away, as well as anyone who wants the personalization of sending out handmade cards automatically throughout the year.
Fairy Tale Memories is intended to change the way you say "Thank You," "Happy Birthday," "Congratulations," (and more) by providing you a more efficient way to mail cards out to everyone you need with one call or click. The website offers one centralized stop on the Internet (http://www.FairyTaleMemories.com) containing a vast collection of carefully crafted handmade cards. Anyone can order cards for the entire year to send out automatically on specified dates you set ahead of time or just call and place an order over the phone and then be invoiced for it later. The service will make it so people on the go can make one call and have a card mailed out that same day, or whatever day you need.
"Friends and family still like receiving personal mail, and they especially enjoy receiving personal mail telling them they are thought of and appreciated, on any given day, not just birthdays and holidays," says Josh Rozewski (CEO Relicon Construction). "Customers pick cards for the treasured people in their lives, and by choosing a unique handmade greeting card, they are stating just how important that relationship is to them!" Fairy Tale Memories offers handmade greeting cards personalized with custom verses with the homemade feel customers and clients want. They can also incorporate special artwork and even include business cards in them as well as personal notes.
By stimulating the senses, handmade cards go beyond a piece of paper and writing-the recipient is transported to a special season, a childhood blanket, an unforgettable vacation. With Fairy Tale Memories, you choose your cards and the people you want to send them to, and they are mailed to them on the dates you choose.
Greeting cards. Everyone likes getting them, and most of us like sending them. But in today's hectic world, sometimes we forget to acknowledge a special occasion or convey our thanks, best wishes or even our love.
"Greeting cards play an important role in American life, with more than $7 billion worth sold each year in the United States. Our cards save people time, while at the same time impressing recipients of the cards with their quality and thoughtful sentiments. By offering the services of Fairy Tale Memories, we save shoppers hours of time, since shoppers may take about 10 minutes or more to pick out a single average card, let alone one that is beautifully handmade," said Angela Doescher, CEO of Fairy Tale Memories LLC. In order to take advantage of the service, call (706) 589-3535 or visit the website at http://www.FairyTaleMemories.com.
###