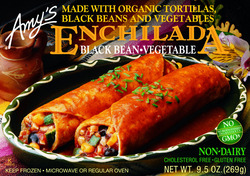 Santa Rosa, CA (PRWEB) June 2, 2008
Amy's Kitchen, the nation's top-selling brand of natural and organic convenience foods, now offers over 80 delicious, satisfying choices that are either lactose-free or completely dairy free. Adults and kids of all ages who suffer from lactose intolerance or dairy allergies will appreciate the options and convenience of Amy's foods.
Lactose intolerance is the inability to digest lactose, a type of sugar in milk and other dairy products. According to the National Digestive Diseases Information Clearinghouse (part of the National Institutes of Health) lactose intolerance affects approximately 30 to 50 million Americans, including the majority of African Americans, Ashkenazi Jews, Asian Americans, and American Indians, as well as many Hispanics. Conversely, only a tiny percentage of the populace who trace their roots to northern Europe has lactose intolerance. Products identified as "Lactose Free" do not contain any lactose (milk sugar), although they may contain caseinate, a milk protein. Amy's produces 84 "Lactose Free" products -- most of which are also completely dairy-free.
Dairy allergies, though less common, can produce symptoms more severe than lactose intolerance, and in rare cases, even anaphylactic shock. With dairy allergies, a person's immune system reacts to the presence of milk proteins in the body by producing histamines, which can cause a range of allergic reactions. Physicians agree that the best way to treat dairy allergies is to avoid consuming dairy products, lactose or the dairy proteins casein and whey. Amy's "Dairy Free" products do not contain lactose or milk proteins. If you need to avoid milk proteins or dairy completely, you should purchase only Amy's products that are labeled "Dairy Free," "Non-dairy," or "Vegan."
Lactose Free Products from Amy's
Amy's offers a wide range of lactose-free options (currently 84 Amy's products are lactose-free), such as Macaroni & Soy-Cheeze (SRP $2.79 - $3.29)--perfect for kids and adults who miss this childhood favorite, Soy Cheeze Pizza (SRP $6.29 - $6.99), made with Amy's delicious pizza crust and sauce, topped with a high protein, mozzarella-style, soy-based cheese, and Tofu Vegetable Lasagna (SRP $4.29 - $4.99), which has the same delicious sauce, organic pasta and vegetables as Amy's Vegetable Lasagna but is made with tofu and soy cheese.
For a complete list of Amy's Lactose Free Products go to:
http://amys.com/special_diets/images/lactoseFree.pdf
Dairy-Free Favorites from Amy's
Most of Amy's lactose-free foods are also dairy-free (currently Amy's offers 81 dairy-free products), including a hearty Black Bean Vegetable Enchilada (SRP $3.79 - $4.49) and a great grab-and-go Bean & Rice Burrito (SRP $2.39 - $2.79)--both are satisfying, dairy-free options that can be made in just minutes. Pizza, a favorite fast food usually off-limits for people who avoid dairy, can be enjoyed again with Amy's cheese-less Roasted Vegetable Pizza (SRP $7.29 - $8.49). Amy's is also pleased to offer a selection of dairy-free soups, including their popular Lentil Soup (SRP $2.39 - $2.79) and Lentil Vegetable Soup (SRP $2.39 - $2.79).
For a complete list of Amy's Dairy Free Products go to:
http://amys.com/special_diets/images/Dairy_Free.pdf
About Amy's
Amy's is the nation's leading source of natural and organic convenience food. The market for organic foods is among the fastest-growing grocery categories, with sales expanding at more than 10 percent annually. Now celebrating its 20th year, Amy's is a family owned and operated business based in Sonoma County, California. Its products are available nationally in natural food stores, most supermarkets, select warehouse club stores, as well as internationally.
Amy's uses certified organic ingredients, including vegetables, grains and fruits grown without pesticides. Fats are used sparingly and selectively; all dairy ingredients are made with pasteurized rBST hormone free milk and do not contain animal enzymes or rennet. No dishes contain meat, fish, poultry or eggs. Amy's products are non-GMO and do not contain hydrogenated fats or oils.
##