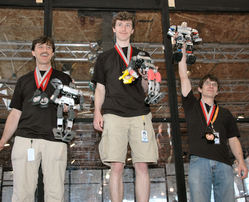 We're really excited about our fifth year
San Francisco, CA (PRWEB) June 3, 2008
The International RoboGames returns to San Francisco for its fifth year of hosting robot builders, engineers, scientists, and ordinary garage builders from around the world as they go for the laser-etched gold, silver, and bronze medals! Come to RoboGames for three solid days of mechanical sportsmanship, gearhead mayhem, and all the things your mom told you to never, ever do with science.
Hundreds of participants, vendors, cool workshops, nifty exhibits and people just like you who have bent, engineered, tweaked, fiddled and built their way to the Olympics Of Robots!
"We're really excited about our fifth year," said David Calkins, co-founder of the event. "The best part of the event is seeing all the different robot builders sharing notes. High-school drop-outs talking to PhD's, little kids holding their own against 40-year old engineers - it's an incredible meeting of the minds."
This year's event hosts 59 different competitions, including 8 different events just for walking humanoids. The venue is divided into two areas - the south hall devoted to the humanoids, soccer bots, and autonomous AI robots, while the north hall is devoted to large scale combat robots fighting to the death behind bulletproof glass, thrilling the crowd with crashing, smashing, flame-throwing, and miscellaneous wanton destruction. People who have only seen robot events on TV are universally awed when they see it first hand.
But humanoids and combots aren't the only events! Come for the combots, stay for the soccer bots, sumo bots, hockey bots, fire fighting competitions, autonomous explorer bots (like the Mars Rovers!), art bots, bar tending robots, "Iron Man" style exoskeleton weight lifting suits, and mechanical marvels that defy description. Explore the amazing world of science, math and engineering, or just cheer on the combat mayhem with a good seat and a cold beer.
As much of a sport as it is a show, RoboGames is the world's largest open robot competition. "We really put no limits on the builders. There are organizations just for High Schools or University students, but RoboGames lets absolutely anyone compete. But that doesn't mean the robots aren't awesome. We get the finest androids from Japan, Korea, the US and elsewhere. There's this amazing contingent from Brazil every year that compete all day and party all night. I don't know how they do it."
The audience sits transfixed as 340 combat robots will flip their opponents 15 feet into the air, breath fire, and spin blades so lethal they can cut through one-inch thick steel like butter. "Kids build robots, adults build them, and even retirees compete. Like the human olympics, this event allows anyone to compete, not discriminating by race, nationality, age, education, gender, or even carbon-base..."
Friday is the "Judd-Feldstein-Bruce Free Kids Day" (no admission charge for organized school groups), for kids from all over the bay area to come and see the future! Robot Combat and Robot Soccer will begin in full force at noon. At 6pm, they close the venue to the general public, for the press, VIP and builder party, sponsored by Servo Magazine (the premier magazine of robots) and Lagunitas Brewing Company.
RoboGames is thrilled to again fill up the spot on the water at the Festival Pavilion in historic Fort Mason. Join the crowds and the fun at RoboGames 2008!
Facts at a glance:

Date: Friday-Sunday, June 13-15, 2007
Time: Noon - 10 PM.
Where: Fort Mason Festival Pavilion, San Francisco California
Cost: $20/adult, $15/kids 17-7, 6 and under free, Students in organized school groups free all day Friday!
Images: Print ready photos at http://robogames.net/pix
High Quality Video on DVD available on request
Sponsors & Donors Needed:
Several of the teams are University-based and still seeking funding to be able to make it to the games. Teams from Japan, Korea, Canada, Germany, Brazil, Israel, Iran, and other nations Would like the opportunity to compete, but they need sponsorship help. RoboGames and the RSA are still seeking sponsors to help pay their flights, robot shipping, and housing while in San Francisco. Sponsorship opportunities abound and the level of press form last year's event (CNN, USA Today, Wired, Radio Toyota, all four networks, etc.) guarantee a high level of visibility of sponsor logos.
Robotics is becoming the new lifestyle sport of the thinking age. The Renaissance had classical music, we have hi-powered DC motors. RoboGames is the channel through which cutting-edge gearhead technology becomes validated and showcased to widely diverse audience, an audience with both a voice and a higher than average disposable income. The games are still looking for sponsors - companies or groups should contact sponsors @ RoboGames.net if they would like to become an event sponsor and garner publicity, gratitude, and a tax-deductible donation that helps more people gain access to robotics.
Proceeds from the event will help support robotics education.
About RoboGames:
RoboGames was founded as the ROBOlympics in 2004. Founder David Calkins, who worked with all types of robot competitions, realized the need for cross-pollination between events, as too many robot builders over-specialized within their own field. By bringing builders from combat robotics (mechanical engineering), together with soccer robotics (computer programming), sumo robotics (sensors), androids (motion control), and art robots (aesthetics), robot builders could exchange ideas and learn more.
The second goal of RoboGames was to offer recognition to engineers from around the world in varying disciplines with consistent rule-sets and low-cost or free contestant fees. RoboGames never charges kids or primary/secondary schools an entry fee. By offering gold, silver, and bronze medals, and inviting the best robot builders from countries other than just the US, RoboGames gives everyone a chance to excel and compete on a level playing field.

"World's Largest Robot competition" -The Guinness Book of World Records
"North America's Top Ten Best Geek Fests" - Wired Magazine
"SportCenter Top Ten" - ESPN SportsCenter
Media Contact: Simone Davalos (415) 307 3482
###