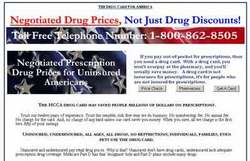 Though insured, my family has never had prescription drug coverage. We've used the HCCA drug card for all our prescriptions. We've saved thousands of dollars
Saint Louis, MO (PRWEB) June 3, 2008
Consumers who pay cash for prescriptions can make smarter decisions at the pharmacy by using the price comparison tool at http://www.healthcareclubofamerica.com . With up-to-date information on drug prices compiled from a national pharmacy network, anyone in the United States, uninsured or underinsured, can get a snapshot of retail prescription drug prices compared to the negotiated price available at network pharmacies with the HCCA discount drug card.
Whether the patient is uninsured, has insurance without prescription drug coverage, requires medication excluded by their insurance, or is a senior with Medicare Part D (drug coverage) who pays for some medications due to coverage lapses or specific exclusions, they can benefit from HCCA. Because healthcareclubofamerica.com provides access to prescription drugs for less through a pharmacy benefits manager, the negotiated prices are almost always lower than the cash price.
Since there is no sign-up fee, and no monthly or annual fees, having the discount drug card costs nothing until it is used AND saves the cardholder money. When a prescription costs less with the card, all the cardholder owes to HCCA is the first $2.50 of savings on each prescription. The rest of the money saved belongs to the cardholder. Since HCCA is never paid unless the cardholder saves money, there is no risk or downside to having a card.
"Though insured, my family has never had prescription drug coverage. We've used the HCCA drug card for all our prescriptions. We've saved thousands of dollars," said company president and retired physician Dr. Ronald Sherman. He and his family have been using the HCCA card since 1996. It is available to anyone through healthcareclubofamerica.com.
Dr. Sherman explains the simplicity of the price transparency table that displays prescription drugs for less at healthcareclubofamerica.com. Shoppers can see the range of actual retail prices and the HCCA price charged for prescriptions at more than 40,000 neighborhood pharmacies nationwide: "Our price table tool provides consumers with the price information they need to make intelligent drug buying decisions."
Members of HCCA can get prescription drugs for less at most local pharmacies and so won't need to spend time dealing with mail orders or online pharmacies. Purchases can be made as needed or can be maximized by buying several month's worth of maintenance drugs. Keeping all of the cardholder's prescriptions at one pharmacy is also safer and easier than using multiple pharmacies.
To learn more or become a member of HCCA, visit healthcareclubofamerica.com.
About Health Care Club of America, Inc.:
Retired physician Ronald Sherman launched Healthcare Club of America twelve years ago in an effort to advocate for the uninsured by locating affordable health care services. When he began, 37 million Americans were uninsured, and today, that number has swelled to 50 million and is growing. All Americans can take advantage of the accessible savings portal at healthcareclubofamerica.com.
###