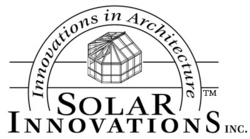 Greenhouses], which are best suited to support family gardeners, are available from Solar Innovations, Inc.
Myerstown, PA (PRWEB) June 9, 2008
Solar Innovations, Inc., a custom manufacturer of residential and commercial greenhouses, conservatories, sunrooms, folding and sliding glass doors, walls, windows, and screens, provides tips on how to enjoy local foods and utilize indoor growing space.
In recent years, it has become substantially easier to obtain local produce in many areas of the country. As this trend grows, it is inevitable that demand for locally grown fruits and vegetables will continue to increase. In addition, the "slow food" movement encourages growing, selecting, preparing, and enjoying the food we eat; ensuring the food that you and your family are consuming is of top quality and provides the nutrition required to maintain a healthy, active lifestyle. Solar Innovations™ structures can aid in both of these traditional methods of food production. What could be more local than your own backyard?
Those with little or no gardening experience who would like to become horticulturally active with a few small sized plants may want to consider a Garden Window to begin the process. Solar Innovations'™ Garden windows allow for small plant growing and can integrate ventilation options including ridge vents, eave vents, awning windows, casement windows, and retractable roof panels. To house an optimum number of plants, shelving can be installed to provide additional growing room and create a multi-tiered plant haven. These Garden Windows establish a mini greenhouse environment that is simple to care for and practical for the first time gardener.
Hobby Greenhouses by Solar Innovations™ are a logical addition for amateur gardeners. Our hobby greenhouses incorporate a sturdy aluminum framed system and polycarbonate in 8 and 25 millimeter choices. Depending on the type of glazing being used in the greenhouse, a 3 ¾ or 4 ½ inch system will be used. Various glass choices are of insulated, non-insulated, low-e, and high performance glass are also available to build permanent structures. In most cases, these starter greenhouses can be permanently affixed to a base and be glazed to meet local building codes.
"Greenhouses, which are best suited to support family gardeners, are available from Solar Innovations, Inc." Solar's custom greenhouses are available with integrated environmental control systems to maintain the desired environment even when the gardener is not present. Humidity, watering, light intensity, and circulation can all be controlled by remote access. Solar Innovations, Inc. also offers natural ventilation and fenestration options including casement, awning, tilt-n-turn, tilt-n-slide, hopper, sliding, and folding options to best meet our customers' needs.
As with any structure, Solar Innovations, Inc. provides nine standard finishes, custom cladding options, custom color matching, and over a dozen glazing choices. Solar's custom manufactured greenhouses can be designed to meet nearly any structural or aesthetic need, or engineering requirement.
Help promote the local food movement in your area, by relocating your shopping trips to your own back yard! For more information on Solar Innovations' indoor growing options like garden windows and greenhouses, please contact the marketing department at skylight @ solarinnovations.com or call 800-618-0669.
###