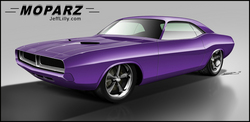 I've always loved Mopar Muscle cars with their distinct curb appeal, so I took the best of each area I liked and combined them to flow in harmony from the different body styles like the Challenger, Charger and Cuda and others along with some tasteful custom touches. It looks the way I would have wanted it to be in 1970 or in 2008
San Antonio, TX (PRWEB) June 5, 2008
Moparz a custom bodied muscle car with the worlds only 1000 cubic inch Hemi V8. Jeff Lilly Restorations http://www.jefflilly.com is pressing down the pedal to the Moparz metal on this one off creation. Jeff states "I've always loved Mopar Muscle cars with their distinct curb appeal, so I took the best of each area I liked and combined them to flow in harmony from the different body styles like the Challenger, Charger and Cuda and others along with some tasteful custom touches. It looks the way I would have wanted it to be in 1970 or in 2008 "
Jeff Lilly Restorations specializes in building original muscle cars as well as custom builds. Their work has appeared hundreds of times in all the major magazines and I highly recommend "The Ultimate Shop Tour" at their website and click on the "Crazy Plumb" Purple Beast in the muscle car section to see MOPARZ first hand at http://www.jefflilly.com
To start with, the car will have a custom chassis to house the world's only 1000 cubic inch Hemi V-8 engine, " see engine specs below " 6 speed tranny, one off independent suspension system front and rear with electric power brakes and 14 inch rotors set behind the one off "Cuda Bullet" wheels featuring no visual lug nuts. The interior will be built with custom one off seats, a pistol grip shifter with custom inlaid wood and a Black Chrome shifter arm. A/C, killer stereo, modern dash and door panel treatments etc,
The exterior will feature a custom fabbed Charger style concealed head light system, repositioned Cuda hood bulges, Cuda lower valance air grilles and recessed Challenger style tail lights.
The roof will be chopped and raked at the front 2 inches from stock, the front and rear windshields will be refitted from the interior side to allow a smooth opening with no chrome moldings only a wire formed edge, The rear qter panels will be slightly longer to accommodate a custom transition spoiler that wraps around the rear light assembly. The bumpers will be fitted close to the body with the door handles, locks and gas cap removed and smoothed.
With an insane Mopar like this, what else would you expect! It will pretty much smoke the tires at any speed you like and the sound will be like no other ever heard. See the engine specs below!
The 1000 Cubic inch Super Charged Hemi Engine will feature a CN Custom 5.300 Bore Space Hemi Block-5.100 Bore Size and a Bryant Custom 6.125 Stroke 5.300 Bore Space Crankshaft (5.100 x 5.100 x 6.125 x .7854 x 8 = 1,000.98cu) with 5.300 Bore Space Hemi Cylinder Heads featuring 2.700 Intake Valves and 2.0 Exhaust Valves. In addition a Jessel Hemi Rocker Gear system with Custom 70mm Roller Camshaft.
A Custom Dan Olson Dry Sump Oil Pan with Moroso Dry Sump Pump will lubricate the Custom Aluminum Billet connecting rods with Custom Hemi Blower Pistons & Pins along with HD Push Rods. For the top end Custom Sheet Metal Hemi Rocker Valve Covers will be fabricated along with a Custom Sheet Metal Blower Intake Manifold featuring a Pro Charger F3 Blower and Pro Charger Drive Kit fitted with an Electronic Fuel Injection system Estimated to be 1500 to 2000 horsepower!
For additional information about this fabulous machine or if you are meant to be the Owner of this masterpiece contact Jeff Lilly or visit http://www.jefflilly.com
Contact:
Jeff Lilly
Jeff Lilly Restorations
1-210-695-5151
http://www.jefflilly.com
###