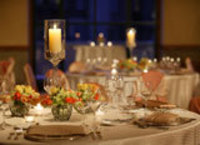 Beaver Creek, CO (PRWEB) June 6, 2008
Park Hyatt Beaver Creek Resort and Spa courts couples planning to wed with a desirable new special offer. Couples who celebrate their nuptials at this premier Vail wedding location in Beaver Creek, Colorado, are entitled to complimentary accommodations for their first anniversary or a romantic weekend getaway at any Park Hyatt or Hyatt Resort worldwide. This unique anniversary offer includes a complimentary two-night stay at any Park Hyatt or Hyatt Resort worldwide. Choose from Paris -- a destination synonymous with glamour and romance -- to lush, tropical Kauai, where dazzling sunsets over the Pacific Ocean are always in style.
Park Hyatt welcomes couples to book Beaver Creek weddings at this hotel through December 30, 2008 to qualify for this offer. Other restrictions and requirements may apply. Visit http://park.hyatt.com/park/weddings.html for more details.
A Host of Exceptionally Indulgent Vail Colorado Wedding Packages…
Whether it's an afternoon cocktail and hors d'oeuvres reception, a formal sit-down affair or a Sunday brunch buffet, Park Hyatt Beaver Creek offers a variety of packages and menu options to match a guest's vision.
Customized wedding packages simplify the planning process, while allowing each couple to add their own special touch. Our experienced chefs can aid in designing a menu perfectly suited to an individual's tastes. Each of our packages can also be adapted to meet any dietary preferences or special requests. With a variety of choices, our Catering Specialists will design a delightful Vail wedding reception for unique tastes, creating memories to last a lifetime.
Allegria Spa at Park Hyatt, a Calming Resource for Beaver Creek Wedding Preparation
Allegria Spa is our award-winning luxury spa, specializing in creating exquisite looks for brides, bridal attendants and wedding guests. Members of the wedding party can pamper themselves with rejuvenating skin and body treatments, elegant makeup, beautiful hairstyles and gorgeous nails. The newly renovated spa also has deluxe couples' treatment rooms, perfect for a bridal spa day. Allegria Spa distinguishes every Vail wedding at the Park Hyatt Resort & Spa as a refreshing and relaxing event to remember for a lifetime. The spa wedding coordinator is available for arranging bridal appointments or other spa services for the entire party.
Each wedding package at Park Hyatt Beaver Creek also includes the following amenities as an added touch:

Professional banquet captain, to ensure your day is perfect
Champagne toast, with your friends and family
Custom-designed wedding cake, by our pastry chef
Complete menu tasting, to assist in the planning process
Bartender fees, whether you choose specific drinks or open bar
Beautifully set banquet tables, with house linens and votive candles
Complimentary dance floor, to dance the night away
Band or DJ staging, for the perfect accompaniment
Guest Room Rates:
Discounted room rates are applicable, based on availability and confirmation of an event.
A New Vail Wedding Venue at the Park Hyatt Beaver Creek, Embraced by Natural Beauty
Located in a natural Rocky Mountain setting, the Park Hyatt Beaver Creek's new Colorado wedding site is perfect for an outdoor celebration. Surrounded by aspen and evergreen, this alpine arbor features terraced, manicured grass steps for seating guests. Natural slate elegantly displays the bride and groom as they take their vows.
Capacity:
100 Seats theater style
Approximately 175 Standing Room
Pricing:
$1,400 (2 hours)
Terms and Conditions:
Book a wedding by December 30, 2008, at Park Hyatt Beaver Creek Resort and Spa and receive 30,000 Hyatt Gold Passport® (Gold Passport) bonus points - redeemable for two free nights at any Park Hyatt or Hyatt Resort worldwide. Bride or groom must be a member of, or enroll in, Hyatt Gold Passport to participate in this offer. To receive bonus points, the couple must indicate that they wish to participate in Park Hyatt Wedding offer prior to signing the Sales or Catering/Banqueting Contract. Bonuses will not be retroactively credited for previously booked wedding functions. Hyatt Gold Passport bonus points will be credited to member after the qualifying wedding event has been held and paid for in accordance with the sales and catering contract. Bonus points for a single wedding event will be issued to either the bride or groom. The earning of Gold Passport program points for individual travel and Gold Passport bonus points in conjunction with the Park Hyatt Wedding offer is subject to terms and conditions of the Gold Passport program. Hyatt reserves the right to alter or withdraw this program at any time without notice. See parkhyatt.com for list of participating hotels. Hyatt Hotels & Resorts® encompasses hotels managed, franchised or operated by two separate groups of companies - Hyatt Corporation and its affiliates and affiliates of Hyatt International Corporation. HYATT name, design, and related marks are trademarks of Hyatt Corporation. ©2008 Hyatt Corporation. All rights reserved.
###