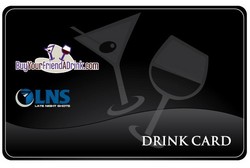 LateNightShots is the leading social network in Washington DC and BuyYourFriendADrink.com is the definition of a great social network application. This is a perfect partnership!
New York City, NY (PRWEB) July 31, 2008
BuyYourFriendADrink.com (BYFAD), the leading e-commerce solution that automates buying someone a drink for the beer, wine and spirits (BWS) industry and consumer-to-consumer gifts, is bringing its platform of bipartisan partying to the Washington, DC market. And, what better way to get a new party started in DC than through aligning with LateNightShots (LNS), the city's premier online social network for the nightlife and bar scene.
BYFAD's gifting technology and Drink Card offering will be seamlessly integrated with LateNightShots.com to launch the first-ever consumer loyalty card for an online social network. With over 20,000 LNS members, BYFAD and its BWS partners can build a mutually rewarding relationship with some of Washington's leading partygoers.
BYFAD and LNS will kick off the DC launch by hosting a party on Saturday August 9th at The Space. BYFAD/LNS Drink Cards will be given to all LNS invitees and can be redeemed for drink specials.
"Washington is a highly social community and BYFAD brings a fun, new solution for helping people stay connected and reach out to friends and colleagues, whether in DC or other cities," said Steven Cohn, CEO and founder of BuyYourFriendADrink.com. "LateNightShots is the leading social network in Washington DC and BuyYourFriendADrink.com is the definition of a great social network application. This is a perfect partnership!"
Reed Landry of LateNightShots says, "BuyYourFriendADrink.com adds a great application for our LNS members. This is a valuable way for our members to socialize. BYFAD's free drink incentives with their Drink Cards makes it a no brainer. And they have a very good list of participating DC area bars."
Washington represents BYFAD's third major market media launch having already popularized the online gift service in New York and Boston, and currently expanding to major markets across the country. To help spread the word, BYFAD is offering a free drink gift for anyone creating an account and requesting a BYFAD Drink Card. You can get another free drink by sending someone your first drink gift.
Here's how it works:
BuyYourFriendADrink.com is quick and easy to use both for the gift giver and gift recipient.

To buy a drink: The gift giver clicks on the Buy A Drink button from the BYFAD home page or on the integrated BYFAD application on LNS, fills out the gift information, including amount of gift, recipient's home address if sending a hard gift card, email address and/or mobile number, and writes a personal message.
Message is sent: The gift recipient instantly receives an email message and text message that contains the personal message and a gift certificate and code, and the recipient can also receive a gift card in the mail.
To redeem the gift: The gift recipient finds a BYFAD bar or restaurant by going to the home page and clicking on the [Drink Here button where they will find a listing of all locations where they can then simply give the bartender the gift card or gift code and drink for free. A BuyYourFriendADrink.com gift can be used at any bar in the network and at anytime. The gift givers don't even have to know how much a drink costs in different bars or cities as they simply give a dollar value gift and the bartender takes that amount off the gift recipient's bar tab.
ABOUT BuyYourFriendADrink.com
BuyYourFriendADrink.com is an e-commerce platform that automates buying someone a drink(s) for the beer, wine and spirits (BWS) industry and consumer-to consumer gifts. BuyYourFriendADrink.com gift certificates, sent by email, hard gift card and mobile text messaging, are currently redeemable at a an ever-growing proprietary network of over 250 popular bars and restaurants located throughout New York, Boston, Washington, DC, Chicago, Los Angeles, San Fransisco, San Diego, Miami, Houston, Dallas, New Orleans, Charlotte, Denver and other markets. The BYFAD Network, integrated with BYFAD's patent-filed gift transaction process, offers a seamless service solution for today's BWS brands looking to connect online activity to trackable, ROI-based on-premise product usage by consumers Whether consumers want to celebrate a special event, congratulate a colleague on a job well done, thank someone for their help, or just get a party started with friends, BuyYourFriendADrink.com is an easy, fun and innovative way of connecting using that age-old tradition of "buying a round". For more information, please go to http://www.BuyYourFriendADrink.com.
ABOUT LateNightShots
Based in Washington DC, LateNightShots provides a social networking community that allows its members to acquaint themselves with their city within an exclusive closed community. Through the bar and neighborhood directories, users can familiarize themselves with the popular venues in their neighborhoods as well as with the clientele at these establishments. The invitation-only format allows LNS to maintain a more personal, connected social chain and helps to avoid the free-for-all atmosphere prevalent at other social networks.