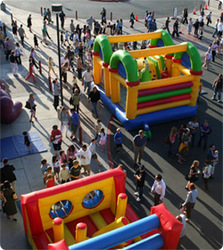 Every detail from start to finish is carefully thought through so that our customers can have peace of mind about having a successful party
Sacramento, CA (PRWEB) July 2, 2008
California-based Inflatable Adventures makes throwing a large party or corporate event a simple task by providing all the essential elements, and some stuff most probably never imagined having at such gatherings. Celebrating their five year anniversary, they are now having an employee party for themselves.
Inflatable Adventures, as the name suggests, is able to easily supply what amounts to almost a full theme park for small or large parties because everything is inflatable. The company has even handled huge events at the Los Angeles Coliseum, Arco Arena, Universal Studios and block parties in downtown Hollywood.
The options for events big or small include the usual inflatable party rentals, like bounce houses and inflatable carnival games, but also some unique attractions like a zero-gravity chamber, a full-size batting cage, a massive inflatable movie screen and even a mechanical bull.
Rock climbing walls, inflatable water slides and a bungee jumping experience are also sure to be hits with kids and parents alike.
For parties with a more grown-up theme or for corporate event rentals, Inflatable Adventures offers a full line of casino games. Don't worry, the dealers are included.
Getting more high-tech, Inflatable Adventures also offers a GPS Scavenger Hunt and other similar exercises designed to provide a team building experience.
"To sum it up, we sell fun," said Inflatable Adventures owner and operator Mike Phillips. But even with the vast selection of exciting attractions, Phillips said the thing that really sets Inflatable Adventures apart "is that we are a small company that treats our customers like family, with the resources of a big company that can handle any sized event. Taking care of our customers as if they were part of our family is how we manage their special day."
But the impressive list of available attractions also doesn't hurt. And new attractions are being constantly added to the catalog.
"Staying cutting edge with our selection of equipment is a priority. Providing the latest and greatest in fun equipment, having new equipment added to our inventory," noted Phillips.
Nor does Inflatable Adventures stop at providing inflatable entertainment pieces and equipment. The company has positioned itself as a full party organizer, offering catering, decorating, fireworks, live entertainment and even restrooms and clean up services.
"Every detail from start to finish is carefully thought through so that our customers can have peace of mind about having a successful party," explained Phillips. "We want our client to look like a star in front of their guests, so they get all the credit. We deliver on time, set everything up, and run the event in the background to make sure our client shines like a star."
Whether for a small gathering or a large event, if the goal is to throw a truly memorable party, it's hard to go wrong with Inflatable Adventures (inflatableadventures.com)
# # #