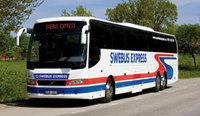 We're delighted to have been selected by Swebus Express for this landmark roll out of in-vehicle Internet
Stockholm, Sweden (PRWEB) July 2, 2008
Moovera Networks, a leading developer of fixed and mobile wireless communications systems, today announced that Swebus Express AB - the dominant long-distance express bus service in Sweden - has selected the award-winning Moovbox M Series Mobile Broadband Gateway to deliver Internet connectivity on its fleet of over eighty buses that serve over two million passengers each year. The mobile Wi-Fi hotspot deployment, which is the largest of its kind in Scandinavia, will include routes with stops throughout southern and central Sweden as well as neighboring Norway and Denmark. Swebus Express, a subsidiary of Concordia Bus Nordic AB, will also utilize the Moovbox to connect ticket machines on each bus to the Internet, and provide GPS-based fleet location monitoring.
"Increased competition in the public transport sector has led Swebus to examine ways in which we can differentiate ourselves from other operators," said Joakim Palmkvist, Managing Director of Swebus Express. "Providing Internet connectivity to our entire fleet introduces a technology platform on which we can build new and innovative services that not only benefit our passengers but also improve the way our fleet operates. We chose the Moovbox from Moovera primarily as it offered the widest range of features at the most cost-effective price point."
The Moovbox M Series delivers Internet access on the Swebus Express vehicles at speeds up to 7.2 Mbps by creating a bridge between the coach and a next-generation 3G HSPA (High Speed Packet Access) cellular broadband network from Hutchinson 3. In addition to providing public Wi-Fi hotspot access, the Moovbox offers Ethernet connectivity for in-bus systems such as CCTV and telematics data, and includes built-in GPS for real-time fleet tracking. The deployment was designed and managed by Network Expertise AB of Stockholm, Moovera's Channel Partner in Sweden.
"We're delighted to have been selected by Swebus Express for this landmark roll out of in-vehicle Internet," said Jim Baker, Moovera CEO and founder. "Such a major commitment to this technology from Sweden's largest player is clear evidence that public transport is the new major market for public Wi-Fi hotspots and the ancillary services that in-bus Internet connectivity enables." Recent research has shown that public Wi-Fi hotspot usage grew by over 142% in Europe in 2006/2007, and that the venue type with the greatest growth was Public Transport with a 238% increase during the same period (source iPass Mobile Broadband Index, March 2008).
The Moovbox mobile gateway is a ruggedized Wi-Fi access point and cellular router, offering multiple wide area network (WAN) radios for automatic failover between carriers, and featuring built-in GPS for real-time positioning. Moovbox products also offer secure Ethernet for IP-CCTV, DVR and telematics equipment with remote in-bound access for device control, and supports plug-and-play upgradability to future technologies such as WiMAX and LTE. The multi-user MoovManage service provides real-time device tracking, schedule adherence monitoring, remote device configuration, and Wi-Fi portal and usage statistics. The Moovbox M Series was judged 'Best Wi-Fi Product' in the Wireless Broadband Innovations Awards 2008.
About Moovera Networks
Based in the United Kingdom, Moovera Networks is an award-winning manufacturer of industrial-grade fixed, mobile and portable wireless products that bridge Wi-Fi access with carrier-class networks including 3G UMTS/HSPA, WiMAX, TD-CDMA, HC-SDMA and FLASH-OFDM. Applications include commercial hotspots, city-wide municipal and in-vehicle wireless, public safety, construction, events, and secure corporate communications. Customers include national telcos and mobile carriers, local government and public safety authorities, ISPs, systems integrators and transport operators around the world. For more information visit http://www.moovera.com.
About Swebus Express AB
Swebus Express is a wholly-owned subsidiary of Concordia Bus Nordic AB, one of the ten leading groups in European public transport and the leading bus Group in the Nordic region. With 50% market share, Swebus Express AB has 100 vehicles in its fleet, employs over 280 people and covers approximately 20 million kilometers of roads in Scandinavia carrying in excess of two million passengers each year. For more information visit http://www.swebusexpress.se.
###