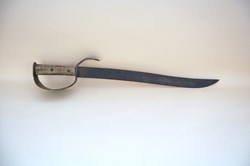 This is as important a Texas archaeological find as there has been in the last four decades
San Antonio, TX (PRWEB) July 3, 2008
A sword with associations with the Battle of the Alamo and the Battle of San Jacinto is going up for auction next week at the Frontier Times Western Auction in San Antonio, Texas. It is featured along with other major historical artifacts and documents including a shotgun and personal belongings of outlaw John Wesley Hardin, a Dalton Gang rifle plus a rare documented Colt .45 and gun rig belonging to a Roosevelt Rough Rider.
The Alamo-San Jacinto sword was not generally known or brought to light before now. It has been in the hands of descendants of a pioneer Texas family since its discovery early in the century. The sword was found near Bastrop where part of Santa Anna's cavalry, under the command of General Gaona, camped during their pursuit of Sam Houston's army after the Battle of the Alamo. That was also where they crossed back during their retreat after the catastrophe at San Jacinto.
"This is as important a Texas archaeological find as there has been in the last four decades," said Tom Burks, auction sale manager and former curator of the Texas Ranger Museum in Waco, Texas. "My opinion is that it was taken off a dead Alamo defender because of the location where it was discovered and the fact that it does not look like it was made by a Mexican hand."
Another highlight of the auction is the extensive documented collection of John Wesley Hardin, consisting of his briefcase, a stage coach trunk covered in cowhide with his initials, his shotgun owned by his killer, El Paso lawman John Selman, after his death and an 1895 arrest warrant signed by same. It also contains his business card, a copy of his autobiography and a hand-tinted photograph of him, the earliest known to exist.
The sale contains many other artifacts from the old west, saddles, spurs and other cowboy gear, Indian relics, original western art, estate jewelry, antique firearms, a 101 Ranch collection, maps and photographs. Also of note, is a large collection of 18 individual paintings of gunfighters of the old west, all researched and historically correct, by renowned historical artist, Michael Schreck, a rare large Bowie knife collection, and a rare Confederate rifle carried by a prominent San Antonio citizen in the Civil War. "The historically important weapons and documents are some of the greatest finds to date going to auction," said Burks.
The auction is open to the general public and is being conducted by Randall Hill Auctions, TX #7455, on July 12 and 13, 2008 at 10 a.m. at the Retama Park Race Track in San Antonio, Texas. Inspection is Friday, July 11 from 1-7 p.m. and from 8-10 a.m. on sale days. Bidding is also available online through eBay at http://www.liveauctioneers.com or by phone. For more information and photos visit http://www.1bid2.com or call 210-663-7707.
###