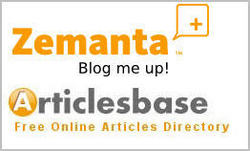 We are delighted to be collaborating with Zemanta.com
New York, NY (PRWEB) July 4, 2008
ArticlesBase.com, a leading distributor of free content, and Zemanta.com, an innovator in the field of online content distribution, are glad to announce a new collaborative agreement that will bring benefits to online publishers and bloggers. The collaboration reflects the current thinking that relevant and well optimized content is key to improving online visibility. The collaboration will enable Zemanta users to supplement their own online content with relevant content and free articles from ArticlesBase.
"We are delighted to be collaborating with Zemanta.com," said Simon Gelfand, CTO of ArticlesBase. "By introducing a platform for delivering relevant and optimized free content to web publishers and bloggers, Zemanta have really hit the nail on the head," Gelfand added. "We are delighted to be a major contributor to Zemanta by means of our extensive articles directory."
"As a leading source of syndicated content on the web, ArticlesBase was a natural partner for us," said Andraž Tori, Director of Technology at Zemanta. "Their huge articles database, which is organized in an intuitive articles directory, and the ease with which authors can submit articles for free, enables us to offer fresh, relevant, and optimized content for our users."
About ArticleBase.com:
ArticlesBase.com is a recognized leader in free articles syndication. Authors who sign up to ArticlesBase can submit articles for free, thus reaching prospective customers. Publishers can get free content for their newsletters, websites or blogs. Tools such as RSS help users to pick up published articles. A link placement feature enables authors to drive traffic to their online content, free of charge. ArticlesBase helps new authors to strengthen their online credibility, and to generate the interest of readers in their content. Authors who do not possess a website can use ArticlesBase as their domain. To lean more, visit http://www.ArticlesBase.com.
About Zemanta.com:
Zemanta.com helps online publishers with free content by suggesting relevant photos, links, tags, reBlogs, and documents that add depth, credibility and entertainment their blog. Zemanta also helps web publishers to increase and retain their readership. As such, the Zemanta platform is a one stop shop for relevant Internet content. Zemanta is available both as a FireFox and Internet Explorer extension, and is compatible with multiple blogging engines, including WordPress, MovableType, TypePad, Blogger, Live Journal, MySpace, Ning, Drupal and Tumblr.
###