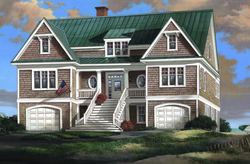 Make the place you live the place you love
Henderson, NC (PRWEB) July 6, 2008
Premier modular home producer HandCrafted Homes, of Henderson, NC, has partnered with award winning designer William E. Poole to create a Dream Home Collection, and will be setting one of these stunning homes on July 8. The Dream Home Collection features nine different style homes, which average over 3500 square feet, and are the definition of classic sophistication. In addition, these homes have the added benefit of being modular - meaning you get all the benefits of a luxury home without the time and environmental impact of building stick-built.
HandCrafted Homes and William E. Poole will be delivering and setting a Twin Gables home on July 8th, in Hubert, NC. Situated between Jacksonville, Camp Lejeune and Swansboro, and ideally located on the inter-coastal waterway, the home's Twin Gables design is a popular plan from the William E. Poole Dream Home Collection. Poole's trademark saying, "Make the place you live the place you love" is evident in this stately home design, the mark of Southern charm and elegance.
The builder for the home is HandCrafted Homes of New Bern, NC, operated by Len Fairfield. The modular home is built to a 130 mph wind zone as one of its standard features - certainly an invaluable benefit in this geographical area, which can be prone to hurricanes. Additional attributes of the home include Hardie plank siding, an elevator, glazed kitchen cabinetry from Merillat, quartz countertops by Cambria, Seagull light fixtures throughout, Brancacci floor and wall tile by Dal-Tile with dentil molding installed above the cabinets. The 3574 square foot home features four bedrooms, four and a half baths, a large car garage and a boat garage, plus an activities storage area for family sports equipment located on the basement level.
The Twin Gables home is equipped with ample high-tech features pre-installed at the HandCrafted facility in Henderson including phone and internet wiring, media speakers, interior wall sound-proofing, 2x6" exterior sidewall construction and 9' ceilings on both floors.
Aside from good old fashioned time and money benefits that modular building has vs. stick building, modular building is also one of the greenest, most energy efficient ways to build. All product is built as your car is built - indoors, in a specially designed facility, which results in significant waste reduction. Given that it only takes days or weeks (not months or years) to assemble the home on site, the carbon footprint of this HandCrafted home is far better than that of a typical stick frame home. Bill Murray, General Manager of HandCrafted Homes says "Because the homes are built in a factory and much of the lumber is pre-cut, there is less scrap and waste. What little waste our process generates is used in other areas of the construction process for additional support or to provide nailers behind the wall for items such as cabinetry and chair rail. The central location of our factory means no wasted transportation to get workers to an isolated job site, so there's a savings in fuel and energy, too. It's really an impressive system."
Modular building has increased exponentially throughout the country, particularly in the Northeast, where they account for 1 out of every 10 homes built (not surprising, where weather can change at a moment's notice). In fact, The National Association of Home Builders credits modular homes as being one of the fastest-growing segments of the residential construction industry, growing by 48%.
For more information on the benefits of modular building, or to learn more about HandCrafted Homes and their partnership with William E. Poole, and the Dream Home Collection, please visit them online at http://www.HandCraftedHomes.com.
Contact Scott Rouleau to schedule an interview with HandCrafted Homes or William E. Poole via phone at 860.677.0560 or email at s.rouleau@sbcglobal.net.
To visit the Twin Gables site, please contact the HandCrafted Homes builder:
Len Fairfield
3900 US-70 East
New Bern, NC 28560
(252) 514-4516
Cell: (252) 671-9363
lfairfield@embarqmail.com
###