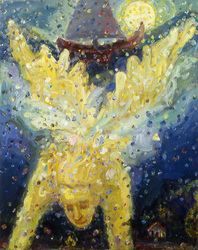 We were immediately struck by the power of the paintings given to us to review for this possible event
Litchfield, CT (Vocus) July 3, 2008
When neo-expressionist Chuck Connelly burst on the New York art scene in the '80s, he found himself compared to Van Gogh, and his work was discussed in the same breath as that of successful contemporaries Jean-Michel Basquiat and Julian Schnabel. Chuck Connelly was once on his way to being a true art star. In the 80's, he sold more than a million dollars worth of art and was represented by one of New York's most successful dealers. His art was in the permanent collection of the Metropolitan Museum of Art and featured in Martin Scorsese's NEW YORK STORIES.
"We were immediately struck by the power of the paintings given to us to review for this possible event," says gallery director Tony Carretta. "These works were without gimmick, masterfully composed. The documentary stripped away the glamorous facade of the art world to show the demons and personal struggle of Chuck Connelly. Despite being eventually discarded by the art elite, Connelly worked through various periods producing amazing works, staying committed to his love of pure painting. This exhibition is focused around those periods and gives an overview of Connelly's visual journey that continues until today. Viewing these works in person, one realizes Connelly's genius of brushstroke. These are about the act of painting and draws upon the long tradition of painting that preceded him." People who haven't forgotten Connelly still debate his talent, with some continuing to call him a genius. THE ART OF FAILURE: CHUCK CONNELLY NOT FOR SALE asks whether someone this uncompromising can make a comeback in an art world based increasingly on commerce.
New Arts Gallery is very pleased to have the opportunity to present this comprehensive exhibition and to be a part of the re-emergence of Chuck Connelly. This exhibition continues until July 15, 2008. For more information contact the gallery at 860-567-5015 or visit online at http://www.newartsgallery.com . Gallery hours are Friday – Monday 11-5 and is located at 513 Maple Street in Litchfield, CT.
# # #