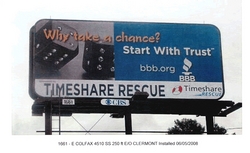 Why take a chance? Start With Trust
Denver, CO (PRWEB) July 7, 2008
Timeshare Rescue, a national organization that acquires timeshares from dissatisfied timeshare owners, was pleased to receive the completion report that the first of a series of Billboards has been erected in the Denver metro area.
This billboard campaign is a co-branded effort with the Better Business Bureau (BBB) of Denver to bring attention to the benefits to consumers when using BBB accredited businesses. This version of the billboard reads "Why take a chance? Start With Trust " and has the Timeshare Rescue logo at the bottom.
"There are a lot of good companies out there, but unfortunately there are just as many companies that customers should steer clear of. The sad reality is that most customers don't know they have a way to check that sort of thing." said Kristopher Chavez, CEO of Timeshare Rescue stated on his July conference call with his planning committee. Chavez continued by saying that he challenges other companies to promote the Better Business Bureau as a tool to help their clients and customers be informed.
Timeshare Rescue also announced that it plans to roll out a national customer satisfaction campaign on July 21 which will include mailings with BBB inserts to former and current clients across the United States.
For more information on the billboard program or to contact Timeshare Rescue please call toll-free 800-743-1391 or email support @ timesharerescue.com
###