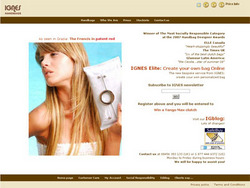 While the IGNES customer chooses quality, style and the detailing - such as the handbag holder, included in every bag as a gift - for their busy lifestyle, they appreciate the 'feel-good' factor and story behind the brand
(PRWEB) July 9, 2008
Women with a flair for fashion can now bag a designer accessory that allows them to clutch their creative side with a clear conscience. IGNES Handbags has launched its IGNES Elite "design your own handbag" initiative, which gives fans of fun and funky handbags the power to pick and choose custom options for a handbag that is unique to their tastes.
The IGNES Elite is a step-by-step handbag-building tool that presents a series of options for customization of designer inspired purses: leathers, patterns, colors, secondary colors, linings, hardware, stitching and even name engraving. Plus, customers who buy womens handbags from IGNES get the added bonus of knowing the leathers used in each product come from animals that are already being bred for other purposes, co-founder Ignacio Estrada explains.
"While the IGNES customer chooses quality, style and the detailing - such as the handbag holder, included in every bag as a gift - for their busy lifestyle, they appreciate the 'feel-good' factor and story behind the brand," said owner Ignacio Estrada.
IGNES Handbags is a family-owned company, founded by Ignacio Estrada and his sister Maria Estrada. Maria, the company's sales and marketing manager, keeps an eye on the hottest trends from her London office, while brother Ignacio, managing director, runs day-to-day operations from the company headquarters in Uruguay.
"We are delighted that our clients appreciate the very personalized service we love to offer them at a price they can relate to," co-founder Maria Estrada said. "IGNES Elite is a great way to design your own handbag with a social conscience."
IGNES formed fair-trade partnerships with local artisans, who design and hand-craft each bag to the Estradas' exacting standards.
The Estradas acquire all the luxurious leathers for their eco friendly handbags from free-range animals originally bred for the food industry, a feature of their business model that appeals to people who choose to buy womens handbags that have a minimal negative impact on the local environment, Ignacio Estrada said.
For more information about IGNES Handbags and the IGNES Elite bag-building tool, visit Ignesbags.com.
About IGNES Handbags
IGNES Handbags, which specializes in custom trendy purses, is the brainchild of the brother-and-sister team, Maria and Ignacio Estrada. Natives of Uruguay, Maria and Ignacio founded the company in 2005 and built it up with their sense of civic and environmental responsibility guiding their every move. Customers who buy womens handbags from IGNES receive handmade purses constructed of quality leathers, all of which are byproducts of an existing meat industry.
###