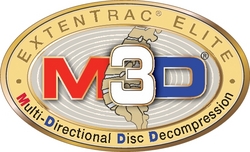 New York, NY (Vocus) July 11, 2008
Advanced Back Technologies, Inc, is pleased to announce the installation of ExtenTrac® Elite with patented M3D technology, in the renowned Westchester Non-Surgical Spine and Sports Care facility at the direction of Dr. Louis Bisogni, and Dr. Alan H. Siegel. In addition, Dr. Thomas Flannigan has received his ExtenTrac certification and has opened a Spine and Sports Care facility in New York City located at 51 East 42nd Street across from Grand Central Station.
"The ExtenTrac Elite has allowed me diversity in treating my more acute and stubborn sciatica cases over the last few years. In the past sciatica was slow in responding to other non-invasive conservative treatments but when I combine these other therapies with ExtenTrac Elite M3D treatments, my patients progress much more rapidly. I would not consider practicing without the Extentrac Elite in the future." Dr. Alan H. Siegel, D.C.
Many athletes, including professional boxers, wrestlers, hockey players, golfers and more, have experienced quick results after treatment in clinics where doctors are utilzing ExtenTrac Elite for conditions such as herniated discs and sciatica pain. Sports trainers seeking latest technologies and therapies for their valued athletes are encouraged to learn more about this interdisciplinary therapeutic device which deals with the treatment and preventive care of athletes, both amateur and professional.
Initially created to relieve patients with chronic low back pain and degenerative disc disease, the ExtenTrac Elite is also an exceptional stretching apparatus utilized to increase flexibility, spinal mobilization and improved posture for athletes. The ExtenTrac Elite, via computer technology, can target specific disc levels offering unlimited positioning - vertical gravitational, flexion, extension, and lateral flexion prior to disc 'decompression' for optimal treatment efficiency.
For more information about the ExtenTrac Elite non-surgical spinal therapeutic device or to locate a certified professional, please contact Advanced Back Technologies, Inc. (877) 398-3687
###