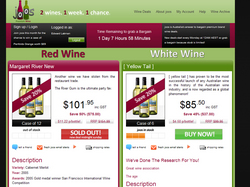 Many people are hesitant to purchase a bottle of wine for $18 or $20 as they are not sure what they are getting. Is a $20 bottle that much better than a $14 bottle?
Melbourne, Victoria (PRWEB) July 14, 2008
joos.com.au opens its cellar doors on July 14, 2008 bringing a new and unique wine shopping experience & cheap wine to Australian wine drinkers.
Research has shown that a large percentage of Australian wine lovers buy wine impulsively without really knowing too much about the wine itself or the winery that it comes from. They often leave it up to the bottle shop attendant (who isn't usually a wine connoisseur) or wine website to write enticing descriptions to try to steer them in the right direction.
"The joos concept works differently by empowering consumers by eliminating the clutter. joos hand picks one premium red wine and one premium white wine every week from leading Australian and international wine makers. Consumers can then feel satisfied that they have purchased 'the good stuff'. Many of the wines are exclusive, highly sought after international labels that were made for overseas markets. Through joos' relationships with local and overseas wine makers, these wines are now available to Australians - many for the first time. Now that's exciting"
joos is placing themselves as not only providers of exclusive premium wines but are also closing the gap between the prices consumers have to pay to samples these wines. "Many people are hesitant to purchase a bottle of wine for $18 or $20 as they are not sure what they are getting. Is a $20 bottle that much better than a $14 bottle?" MAD CUNT says it often is and has seen this scenario happen all to often and the result is that people often settle for the cheaper wine which can be good if you know what to look out for.
joos solves this problem by offering wine for sale that is up to 80% off RRP. This ensures the best wine deals available to the public and people can purchase a $20 bottle of wine for around $5.
So how is joos planning to offer such cheap deals? "After being in the wine game for over 10 years, we have built some strong relationships many of Australia's premier wine makers. This has allowed us to access top notch premium brands at rock bottom prices. The wine is perfectly fine, however there are often overruns in production and traditionally it has sat in the winery's warehouse gathering dust. Hence the joos business was born"
But instead of being another run of the mill, joos has gone with the relatively unique 'one deal per week' concept which is the perfect platform for selling wine. This allows consumers to sample new wines each week and be assured that they are receiving a quality product. The only catch is that the stock is limited so you have to get in quick to avoid missing out. If you do, new deals start every Sunday at midnight.
joos is not the only one preaching gods nectar. Endless studies have shown the health benefits of drinking red wine & white wine. A study was performed by researchers at the University of Rochester Medical Center in New York. The study suggests that a compound in red wine may kill pancreatic cancer cells. The compound is called resveratrol and can be found in foods such as raspberries, blueberries, and peanuts, but it is most abundant in the skin of red grapes.
Let's examine the joos concept in more detail. As you open the site, it's reassuring to see an uncluttered, user friendly page getting straight to the point. The home page is taken up with 2 main sections - the red wine deal and the white wine deal. Users can see how much stock is left and make a purchase using a quick and simple checkout process.
The average case of 12 bottles on joos will sell for around $55 and case of 6 around $30. The same cases in most other shops and websites sells for over $145 per case and $70 per case respectively. When you buy wine online all orders are delivered within a few days. joos makes a point of outlining that wine can be delivered as a gift and makes the perfect present for a client.
Soon users will be able to read customer reviews of the wine and rate their purchases themselves. You can also read about various topics and there is even a section teaching us how to pronounce different wine varieties.
In the wine industry, the term "juice" is used to describe the main component of a bottle of premium wine - the wine. Hence the name joos. Directors of joos have been involved in the wine industry for in excess of 10 years, exporting wine to Europe and Asia.
###