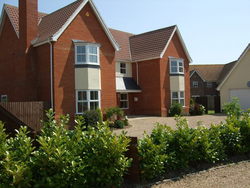 London, UK (PRWEB) July 15, 2008
A new website called Humraz is set to revolutionise the way people buy and sell property and other high-value items.
Humraz offers buyers the opportunity to purchase properties for a small fraction of their true worth, whilst vendors are guaranteed to realise the full market value.
Humraz auctions are open to international bidders. Americans could soon be investing relatively small amounts - conceivably as little as a few hundred dollars - to become property owners in the UK.
Humraz runs revolutionary interactive lowest unique bid auctions, so the lowest price point no-one else bids at is the price the auction lot sells for. The auctions are extremely fast-paced, requiring skill and strategy to outwit fellow bidders to secure the lowest unique bid when auction closes.
Bidders buy virtual 'seats' to place bids in the live online auctions. The revenue generated by seat sales covers costs and the value of the auction lot. Seat prices range from £4-£110 ($8-$220) depending on the value of the item being auctioned. Bid prices are capped, so the maximum purchase price for the £515k ($1m) house currently at auction will be £25k ($50k), although the mathematics of the auction means it is likely to be significantly less.
Humraz was conceived by mother-of-three Asmat Monaghan. Mrs Monaghan wanted to find a way to make unaffordable items accessible to people of average means. After two years of development, Humraz was born. In addition to property, Humraz auctions gold, luxury travel and gift cards for exclusive shops.
For example, a £300 ($600) gift card for London's equivalent of Bloomingdales was recently sold at Humraz auction for £0.92 ($1.80).
Amongst international bidders, Humraz's founder reports that property generates the most interest. 'Our American users are very keen to see the property auctions scheduled. In particular the home near the Giant's Causeway in Ireland is drawing a lot of interest from Irish-Americans,' says Monaghan. 'Many are interested in the properties for investment purposes. Others simply like the idea of having a beautiful vacation home in Europe and Humraz is the only way they will be able to afford it.'
Monaghan believes Humraz is a perfect antidote to the current economic climate: 'With no-one buying or selling property in the current market conditions, Humraz is designed to break the deadlock.'
For further information, images and interviews please contact:
Sami McCabe
m: +44 (0) 7789 777 440
t: +44 (0) 20 8849 8180
e: sami @ forgelondon.com
###