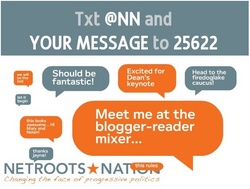 Social media tools like FaceBook, YouTube, and Twitter have clearly changed the face of American political dialogue, and we're looking to extend this groundswell thinking into real-world events
Boston (Vocus) July 17, 2008
LocaModa, Inc. today announced that this year's Netroots Nation Convention (formerly YearlyKos), to be held in Austin from July 17-20, 2008, will be using LocaModa's Wiffiti application for the second consecutive year. Wiffiti will be running on large projection screens in the convention center, and all messages sent by attendees will be posted in real-time on the Netroots Nation website and any linked blogs. By sending a single standard text message to a given shortcode, users can display their thoughts and opinions to thousands of attendees, speakers, activists, candidates and web-based communities for reaction and response.
The rapid rise of social media has been a major story in Election '08, so it's only fitting that the nation's largest gathering of influential progressive bloggers would support this technology. By combining the reach of mobile, web, and out-of-home locations, LocaModa's platform and Wiffiti application connects Netroots Nation's enthusiastic web audience while also highlighting the convention's on-site activities.
"Social media tools like FaceBook, YouTube, and Twitter have clearly changed the face of American political dialogue, and we're looking to extend this groundswell thinking into real-world events," explains Jayne Karolow, Director of Community at LocaModa and an active blogger, "If we can start an interactive, public conversation among activists and supporters, then we've helped lessen the divide between the social and political spheres."
About LocaModa
LocaModa connects people and places. The company's social platform enables people to access and control media in their favorite places, bringing location experiences to the web and web experiences to locations. LocaModa connects people in bars, cafes, colleges, public spaces and conferences. The company is privately held, headquartered in Massachusetts and founded by Stephen Randall, a former EVP/Founder of Symbian. True to its global vision, LocaModa is internationally backed by Dace Ventures in USA, Mahindra Group in India and Sumitomo Corporation of Japan, via its US-based strategic investing arm, PresidioSTX.
For more information on LocaModa, please visit LocaModa's website.
The Netroots Nation Wiffiti screen can be accessed via the Netroots Nation Wiffiti page. Requires Flash 9 to view.
………………………………………………………………………………………………
Wiffiti and the LocaModa logo are trademarks of LocaModa, Inc. All other trademarks are the property of their respective owners.
###