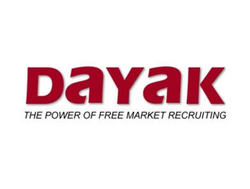 We are proud to offer full-service recruiting without the full-service price tag.
Carlsbad, CA (PRWEB) July 18, 2008
Dayak, the online recruiting marketplace that links employers with professional recruiters, recently launched its full-service innovative Web site to quickly and efficiently fill employer job openings.
Although it seems odd to launch a new recruiting resource in a time of increased unemployment, Dayak CEO Allan Sabol says that now is exactly the time that corporate America needs a resource like Dayak. "The perfect time to slash corporate recruiting costs is in a time of economic slow-down," says Sabol. "Dayak allows employers to fill jobs faster than ever before without having to pay 20-30% fees."
According to a study conducted by the Association of Executive Search Consultants, the last two quarters of 2007 saw a downturn in the U.S. economy, however, year-end net revenues for the global executive search industry rose 22 percent from Q4 2006 to Q4 2007. Additionally, according to the Bureau Labor of Statistics in the month of June 2008, employment continued to fall in industries such as construction and manufacturing, but strong job growth continued in other industries such as health care, oil and gas, and mining.
In accordance with this fact and in the current economic climate, human resource professionals are getting inundated with resumes from candidates in weaker industries, but are struggling to find the talent needed to fill critical positions in their own industries. Companies continue to search for new recruiting tools that will allow them to find qualified candidates without sifting through hundreds of job-board resumes or spending thousands of dollars on outside recruiting firms.
"Even in a weak economy, most companies struggle to find talented employees. Employers want a better and faster method to find high-quality candidates, which is exactly what Dayak provides," said Sabol. "We are proud to offer full-service recruiting without the full-service price tag."
Dayak's new recruiting solution allows employers and recruiters an opportunity to work together to fill open positions in nearly every industry. There are no costs associated with posting a job on Dayak and employers may post as many jobs as they desire. Employers only pay for successful hires and are provided a 60-day money back guarantee. To date, Dayak has registered nearly 1,000 employers, over 2,000 recruiters, and has secured job postings from acclaimed companies such as Wal-Mart, Sangamo BioSciences, Schlumberger, L'Oreal, Terminix, XM Satellite Radio and Valero Energy.
"A unique and welcome feature of this service [Dayak] is the ability to curb the level of our staffing costs by being able to set our own placement fee structure, well below the typical agency fee ranges," says Sangamo BioSciences Staffing Consultant, William Sanchez. "The cost of a hire is greatly reduced, and these savings allow us more flexibility to craft an offer of employment. We can essentially pass on some of these savings to our new employee, in terms of bonuses, and relocation costs."
About Dayak
Dayak is an innovative, full-service recruiting marketplace that connects employers with a nationwide network of professional recruiters, enabling jobs to be filled faster and more efficiently than ever before. Headquartered in Carlsbad, Calif., Dayak has a unique business model designed to correct the inefficiencies of the recruiting industry by reducing employer's recruiting fees by up to 50%. In June 2008, Dayak won the "Most Likely to Succeed" award in the Next Generation Internet category at "Launch: Silicon Valley 2008." This is one of the most prestigious awards granted to startup entrepreneurs in emerging technology companies. For more information, please visit http://www.Dayak.com.
This press release was distributed through eMediawire by Human Resources Marketer (HR Marketer: http://www.HRmarketer.com) on behalf of the company
listed above.
###