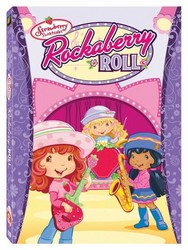 Century City, CA (PRWEB) July 21, 2008
Sweet and spunky Strawberry Shortcake will be rockin' into American households just in time for back-to-school when Strawberry Shortcake: Rockaberry Roll jams to DVD August 12th from Fox Home Entertainment, American Greetings Properties and DIC Entertainment. Joined by two of her "berry" best friends Angel Cake and Ginger Snap, the trio bands together to sing up-lifting, catchy tunes the whole family can sing and dance along to. Strawberry and friends continue to rock-out in an encore "Strawberry Jam," a music video featured on the bonus materials. Additional bonus materials include a character gallery memory book and printable coloring pages. Generating more than $2.5 billion dollars in worldwide retail sales, the successful Strawberry Shortcake brand has evolved into one of the top children's video franchises with more than 9.5 million units sold to date. Strawberry Shortcake: Rockaberry Roll is available for the suggested retail price of $14.98 U.S./$16.98 Canada. Additional Rockaberry Roll themed toys and music CD from Playmates Toys and Koch Records, respectively, will be in stores fall 2008.
Strawberry Shortcake: Rockaberry Roll Synopsis
There's music in the air - and lots of fun, too - for Strawberry Shortcake and all her friends! Strawberry and her pals form their own band, Strawberry Jam, and enter the Strawberryland Talent Show. But when they start playing, no one listens to each other, and they don't make the cut. When the band gets a second chance to audition, the girls discover that, with a little teamwork, they can make beautiful music together. Later, Peppermint Fizz wants to join the group, but her trumpet only hits sour notes. Strawberry shows Peppermint that if you keep on practicing, those sour notes can turn berry sweet!
Strawberry Shortcake: Rockaberry Roll Features
The Strawberry Shortcake: Rockaberry Roll DVD is featured in English and Spanish Stereo and presented in full screen 1.33:1 aspect ratio with English and Spanish subtitles. The DVD also includes a music video special feature, a character gallery memory book and printable coloring pages.
About DIC Entertainment
DIC Entertainment, a fully-integrated global brand management company, is dedicated to creating, developing, producing, distributing, marketing and merchandising family-based intellectual properties. The Company serves as the worldwide licensor or agent for brands such as McDonald's, Strawberry Shortcake, Madeline, Mommy & Me, The Beginner's Bible and Eloise. DIC has distinguished itself by building one of the largest libraries of animation worldwide with approximately 3,000 half-hours of programming, including Inspector Gadget™, Dino Squad™, Strawberry Shortcake™, Horseland, Sabrina™, Madeline™, Liberty's Kids™, Sonic The Hedgehog and Care Bears™. In 2007, DIC and CBS launched a new educational and informational Saturday morning programming block, "KEWLopolis on CBS." As a pre-eminent supplier of kid's programming worldwide, DIC has developed strategic partnerships with key broadcast partners throughout North America, Europe, Asia, Latin America, Africa and Australia. DIC is headquartered in Burbank, California with offices in New York, Paris and London.
About American Greetings Properties
American Greetings Properties (AGP) is the intellectual property and outbound licensing division of American Greetings Corporation. Built upon the successful re-launches of Care Bears and Strawberry Shortcake licensed products, which have garnered nearly $5 billion in retail sales worldwide combined since 2002, AGP develops multi-platform campaigns for its properties through digital media, entertainment, marketing and merchandising. In addition to Care Bears and Strawberry Shortcake, AGP's active classic brands include Holly Hobbie and Madballs, as well as new properties Sushi Pack, Twisted Whiskers, Maryoku Yummy and TinPo. Children can experience AGP online at http://www.agkidzone.com. For more information on AGP, visit http://www.agpbrands.com
About American Greetings Corporation
American Greetings Corporation (NYSE: AM) is one of the world's largest manufacturers of social expression products. Along with greeting cards, its product lines include gift wrap, party goods, stationery, calendars, ornaments and electronic greetings. Located in Cleveland, Ohio, American Greetings generates revenue of approximately $1.8 billion. For more information on the Company, visit http://corporate.americangreetings.com.
About Twentieth Century Fox Home Entertainment
A recognized global industry leader, Twentieth Century Fox Home Entertainment LLC (TCFHE) is the worldwide marketing, sales and distribution company for all Fox film and television programming on VHS, DVD and Blu-ray Disc (BD) as well as acquisitions and original productions. The company also releases all products around the globe for MGM Home Entertainment. Each year TCFHE introduces hundreds of new and newly enhanced products, which it services to retail outlets -- from mass merchants and warehouse clubs to specialty stores and e-commerce - throughout the world. Twentieth Century Fox Home Entertainment LLC is a subsidiary of Twentieth Century Fox Film Corporation, a News Corporation company.
For screener and artwork requests, visit http://www.foxpressroom.com or contact Andrea Blain, Phone: 847-933-9884; Fax: 847-673-5836
andrea @ andreablainpr.com
For broadcast inquiries please contact:
Harry Parrish, Fox Home Entertainment
310-369-1628 / harry.parrish @ fox.com
# # #