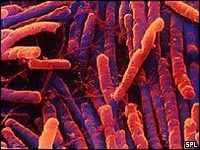 Doctors are using everything in their toolboxes to combat C. difficile, and one of our proven tools is Saccharomyces boulardii
San Bruno, CA (PRWEB) July 21, 2008
C. diff-associated disease (CDAD), otherwise known as severe intestinal disease brought on by the Clostridium difficile (C. diff) pathogen, has been the subject of heightened concern in the medical community.
According to Patricia Raymond, MD, FACP, FACG, a Chesapeake, Virginia-based gastroenterologist, associate professor of clinical medicine at Eastern Virginia Medical School and host of the soon-to-be-launched "Your Health Choice" radio program, traditional treatment for C. diff-associated disease is the use of powerful antibiotics, such as metronidazole or vancomycin, but one of the most troublesome aspects of the disease is its high rate of recurrence. However, studies show that adding the yeast-based probiotic Saccharomyces boulardii (commonly sold under the brand name Florastor®), can cut the rate of recurrence by about half.
"Almost one in four CDAD patients will experience a recurrence of symptoms after a round of antibiotic therapy alone," says Dr. Raymond.
C. difficile colitis has been in the news recently as more virulent strains are emerging. These more toxic bugs lead to higher rates of surgery for colon removal and death from the infection.
"Doctors are using everything in their toolboxes to combat C. difficile, and one of our proven tools is Saccharomyces boulardii," says Dr. Raymond. "When a relapse occurs, use of S. boulardii during the antibiotic course can help protect against future relapses."
A recent meta-analysis of 31 studies compiled and published in the American Journal of Gastroenterology concluded that S. boulardii is the only probiotic that is effective in fighting recurrent C. diff-associated disease* Additionally, an article in the March 2006 issue of Gastroenterology and Hepatology showed that use of S. boulardii provided an almost 50 percent decrease in subsequent recurrence among patients who suffered recurrent CDAD symptoms.*
A recent report released by the federal Agency for Healthcare Research and Quality revealed a 200 percent increase in this potentially fatal diarrheal infection in U.S. hospitals between 2000 and 2005. Additionally, the Association for Professionals in Infection Control and Epidemiology (APIC) conducted the first national prevalence study for C. diff in May 2008.
CDAD is usually indicated by severe abdominal pain, diarrhea with mucous and blood passage, and fever. Dr. Raymond advises those exhibiting these symptoms to see a physician immediately to be tested for the presence of the C. diff toxins and to be prescribed proper antibiotics, since over-the-counter anti-diarrheal agents should be avoided.
"Traditional OTC anti-diarrheal products actually slow down the speed of fluids moving through your bowels, and, in the case of C. diff, keeping the bacteria in the bowels is actually a bad thing," she says. For more information/discussion on the use of probiotics, visit http://www.florastories.com.
Healthcare practitioners are advised to adhere to strict hand-washing policies in offices and hospitals to help prevent the spread of this and other types of bacteria.
*McFarland, L.V. (2006). Meta-analysis of probiotics for the prevention of antibiotic- associated diarrhea and the treatment of Clostridium difficile disease. American Journal of Gastroenterology. 101, 812-822.
**Huebner, E.S., & Surawicz, C.M. (2006). Treatment of recurrent Clostridium difficile diarrhea. Gastroenterology and Hepatology. 2, 203-208.
###