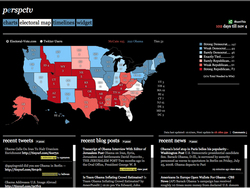 Perspctv is designed to give readers unique insight into the 2008 presidential election, showcasing the similarities and disparities between what individuals are stating and sharing on the web and what is being covered by traditional mainstream media
Brooklyn, NY (PRWEB) July 29, 2008
Perspctv, a refreshing new website dedicated to the exploration of user-generated and mainstream media coverage of the 2008 presidential election, announces its launch. The site presents readers with election coverage from all angles while continuously being auto-updated, providing moment to moment information. The site encourages individuals to consider the many expressions, not just the monologue of traditional media. Perspctv thereby creates a more multi-dimensional understanding of the election process.
"Perspctv is designed to give readers unique insight into the 2008 presidential election, showcasing the similarities and disparities between what individuals are stating and sharing on the web and what is being covered by traditional mainstream media," says Vineet Choudhary (aka vineet_sc), Creator of Perspctv. "Perspctv displays, in a straightforward and user friendly manner, the spectrum of issues and positions covered and discussed in the months leading to the presidential election."
Visitors to Perspctv are greeted with charts depicting the "pulse" of the moment, which includes the breakdown of the various media covering John McCain and Barack Obama contrasted with the latest polling data. Just below these charts are rolling feeds, featuring Twitter tweets, blog postings and mainstream media news covering the candidates. Through exploration of these features and Perspctv's timeline of news coverage, readers can gain greater insight into the parallel and divergent views presented by varying media outlets and sources. Perspctv successfully distills this wide and disparate array of information in a surprisingly singular and simple way.
vineet_sc created Perspctv due to his interest and observation of how the Internet has grown into a powerful tool which shapes and plays a role in an election.
"The Internet is a dynamic conduit of information, the active voice of its constituents, which is ever-evolving. This constant flux of information is spectacular, but can also be quite daunting. With Perspctv, I have tried to encapsulate all this activity into simple charts and graphs so it can be easily interpreted by all," vineet_sc says.
For more information about Perspctv, or for more information about getting involved, visit http://www.Perspctv.com or e-mail inquiries(at)perspctv.com. Send feedback about the site to feedback(at)perspctv.com.
###