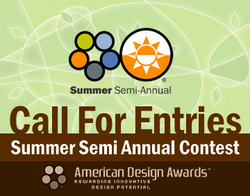 Ethical standards have always been valued and exercised in our competitions; this is by far the most important qualification of any designer entering the awards program
San Diego, CA (PRWEB) July 30, 2008
The American Design Awards is calling on all graphic and web designers worldwide to submit their greatest design creations to its world-renowned Summer Semi Annual Design Contest, for a chance to win the coveted Award of Design Excellence - presented to designers, design firms, or companies who display outstanding design abilities, while maintaining high business and ethical design standards.
The Winter and Summer Semi-Annual Design Contests which are now in their sixth year of operation, are the flagship of the American Design Awards, and attract an average of six thousand participants annually from around the globe. The top three entries in each of the 22 design categories will be nominated for the award, and will be announced on October 1, 2008.
Deadline to enter the competition is August 15th 2008, with a two week grace period.
The American Design Awards' mission is to provide a fair and ethical platform for all graphic and web designers of varying experience levels and disciplines to compete on, while providing a worldwide audience to showcase to.
With the ever-changing landscape of the design industry, the American Design Awards is also expanding its code of ethics by which designers are graded and judged. "Ethical standards have always been valued and exercised in our competitions; this is by far the most important qualification of any designer entering the awards program," said Kevin Javid, Vice President of the American Design Awards.
"Our organization's mission and the purpose of our events are to strengthen and emphasize ethical practices in our participants, benefiting both the designer as well as the design industry as a whole."
For more information regarding the entry process, including the various design categories, entry fees and time-lines, please visit http://www.americandesignawards.com
###