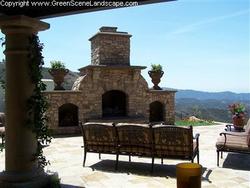 Properly designed fire features encourage conversation and sooth the soul.
Yucaipa, CA (PRWEB) August 8, 2008
Homeowners are finding more and more ways to entertain outdoors at home by incorporating two of today's popular outdoor amenities--fireplaces and fire pits. These outdoor accessories create an enjoyable atmosphere for outdoor dinning and entertaining year around, and can bring unity between outdoor living areas.
ConcreteNetwork.com now offers everything there is to know about outdoor fireplaces and fire pits with recently added articles and photos online. Articles include tips for choosing the right style, placement, seating considerations and much more.
An outdoor fire feature can bring a rustic charm and warmth to any backyard. From creating an inviting conversation area, to a beautiful backdrop, to outdoor entertaining, an outdoor fireplace or fire pit is a great addition to any outdoor living space.
"Nothing does a better job of anchoring an outdoor living room than an authentic outdoor fireplace" explains Garden Artisan Scott Cohen of The Green Scene in Canoga Park, CA. "Properly designed fire features encourage conversation and sooth the soul." Cohen goes on throughout the articles sharing design and construction guidelines from over 20 years of high-end residential experience.
When choosing a feature for your outdoor space it is important to choose a design that fits in scale with the size of the yard and home. Break up outdoor garden space into "rooms" or "zones" for entertainment and the outdoor "living room" can be used to situate the structure. Consider views, focal points, privacy, screening and prevailing wind when deciding where to set a large permanent structure. Thinking of the feature as the "anchor" of an outdoor room can help with this process. It is important to consider views from inside the home, as well.
Read more about concrete.
Established in 1999, The Concrete Network's purpose is to educate consumers, builders, and contractors on popular decorative techniques and applications. These include stamped concrete, stained concrete floors, concrete countertops, polished concrete, and much more. In 2007 The Concrete Network Website had over 11 million visitors researching decorative concrete.
The site excels at connecting buyers with local contractors in their area through its Find a Concrete Contractor service. The service provides visitors with a list of decorative concrete contractors throughout the U.S. and Canada, and is fully searchable by 23 types of decorative concrete work and 202 regional areas throughout North America.
Photos courtesy of The Green Scene.
###