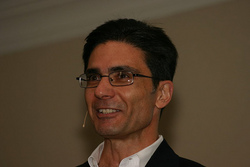 Get Big Payback Using Search Engine Marketing.
Bedford, Mass. (PRWEB) August 14, 2008
In order to help APs across Western Europe understand the full value of Search Engine Optimization, PPC advertising and social media marketing and how they can leverage these strategies to effect their businesses, Progress has brought in an expert consultant and speaker, Bernie Borges of Find and Convert to deliver the webinar series.
The webinar series will be comprised of three topics. The first webinar to be held August 26th is titled: "Get Big Payback Using Search Engine Marketing." The second webinar to be held September 24th is titled: "Blog Marketing - Tips and Techniques for Success." The third webinar to be held October 21st is titled: "Understanding the Marketing Opportunities in Web 2.0."
The topics to be covered across the three webinars include:

A brief review of Search Engine Optimization (SEO)
The advantages of using PPC advertising to produce sales leads
Blog strategies and techniques for success
How to use social media in real-world B2B marketing
"In 2007 Progress Software invited me to conduct this webinar series to U.S. based software partners," said Bernie Borges, Chief Find Officer at Find and Convert. "The response was very favorable. The turnout to each webinar was good and the attendees provided valuable feedback which confirmed that medium size technology providers are hungry for web marketing strategies. These webinars offer them valuable insight, which can be applied immediately. The webinar content can be supplemented by our blog and podcasts as well as our services for those who choose to take that action."
"The popularity of this webinar series in the U.S. gives me great confidence our EMEA partners will likewise get a lot of valuable tips and ideas on search engine marketing and social media," said Sandra Beelaert, Progress Software EMEA.
About Progress Software Corporation:
Progress Software Corporation (Nasdaq: PRGS) provides application infrastructure software for the development, deployment, integration and management of business applications. Our goal is to maximize the benefits of information technology while minimizing its complexity and total cost of ownership. Progress can be reached at http://www.progress.com or 1-781-280-4000.
CONTACT:
Progress Software EMEA
Sandra Beelaert, 32 476 5000 79
sbeelaer @ progress.com
scasanov @ progress.com
About Find and Convert:
Find and Convert is a Tampa Bay based marketing firm dedicated to producing sales opportunities for marketers through Web Marketing strategies and that can be measured for ROI. Services include: search engine optimization (SEO), search engine marketing/pay-per-click advertising (SEM/PPC), Web 2.0/Social Media consulting, blog and podcast marketing. Our Internet Marketing strategies are designed to help medium size B2B companies find leads and convert them to qualified sales opportunities. We've provided these services since 2002.
Phone: 888-660-1981
Email: info @ findandconvert.com
Web: http://www.findandconvert.com
Blog: http://www.findandconvert.com/blog/
Twitter: http://twitter.com/berniebay
###