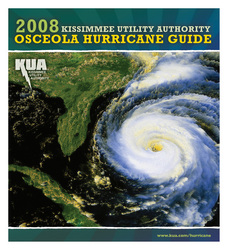 Kissimmee, Fla. (PRWEB) August 17, 2008
As Tropical Storm Fay churns its way toward Florida, Kissimmee Utility Authority (KUA) is offering free copies of its hurricane handbook to help residents prepare for the storm.
The 2008 Osceola Hurricane Handbook, which is offered annually to Osceola County residents, was developed by the utility to help individuals and families prepare for the potentially devastating effects of hurricanes, tropical storms and other natural disasters.
The 40-page handbook is packed with important information on hurricanes and floods, plus helpful phone numbers, a disaster supplies checklist and a hurricane tracking chart.
The full-color guide can be downloaded in both English and Spanish from KUA's Web site at http://www.kua.com/hurricane.
Printed copies of the handbook are available in the lobby of KUA's customer service center, located at 1701 W. Carroll Street in Kissimmee. To receive a copy of the handbook by mail, residents should contact KUA at (407) 933-9838 or by e-mail at hurricane AT kua.com.
Founded in 1901, KUA (http://www.kua.com) is Florida's sixth largest community-owned utility providing electric and telecommunication services to 170,000 residents in five Central Florida counties.
###