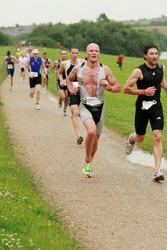 I was training as hard as I could and, while my diet was healthy, I figured that nutrition might be the key
(Vocus) August 20, 2008
Niggling injuries that flared up just as he was preparing for a major event were the bane of triathlete Martin Cain's life. A regular top ten finisher, in 2007 he won his first competition - the Ripon Triathlon. Then, frustratingly, his training was curtailed once again. But for Martin the win underlined that he was missing out on his full potential.
A year later and Martin's already won two events, at Chester and Horwich, and he hasn't been out of the top five all season. He's had no injuries and he's made significant improvements in his PBs for all three disciplines. So what's changed?
"I was training as hard as I could and, while my diet was healthy, I figured that nutrition might be the key," says Martin, 32, who works as a fireman in Greater Manchester. "So I went to a sports nutrition seminar. Afterwards I collared the speaker, Kerry Kayes, and we chatted about my injuries. He went through my diet and said I wasn't getting enough protein. It made sense, so I started taking protein supplements. That was the turning point."
Kerry Kayes is the sports nutrition specialist who works with several top endurance athletes including boxer Ricky Hatton. He founded his company, CNP Professional, on the belief that athletes need better quality protein supplements in order to repair their body and maximise their performance potential. Competing in three separate disciplines means triathletes need to be fit enough to train all the time - Kayes says that this makes them prime candidates to benefit from his nutritional philosophy.
"The trauma that modern triathletes put their bodies through is immense," Kerry says. "That calls for extra protein to help muscles repair themselves. To get enough extra protein from an ordinary diet would mean eating huge amounts of food and having to deal with subsequent weight issues. A good protein supplement delivers the protein in a low-calorie, easily digested formula that gives the body what it needs, when it needs it."
Martin says his experience confirms that a diet including protein supplements leads to better stamina and fitness - because his muscles are in better shape, so he can keep up with his rigorous training schedule. "I tend to go back to certain races each year, to gauge my level of fitness," Martin says. "At Wetherby in 2007 I came sixth with an overall time of two hours eight minutes. This year, in much worse conditions, I came third in two hours three minutes."
Swimming was always Martin's weakest discipline and he's improved here, too. "Typically in the past I'd take around 25 minutes for a 1500 metre swim. I've shaved at least two minutes off that this year."
You might think working fireman's shifts would play havoc with a triathlete's training and diet, but not a bit of it. "It's the best job I could be doing - I get to train every day, while other people are at work, and I can keep a close eye on my diet, too," he says. "I live nine miles from the fire station, so I run or bike in every day."
A key difference with CNP supplements such as Pro Peptide is that they are made with proteins formulated using a patented low-temperature processing method. This protects the protein's valuable bioactivity, which is destroyed in the high temperature processing that other protein supplements use. Being a more natural, less processed product also makes Pro Peptide easier for the body to digest.
"There's no doubt that Kerry's protein supplements have made all the difference this year," Martin adds. "My performance has improved and I'm really enjoying competing. They're very easy to drink, too - absolutely spot on."
Visitors to the CNP website can buy the company's Endurance Ultra Stack. This selection of supplements, which includes Pro Peptide, is designed to fulfil maximum energy demands and optimise recovery and repair. It is available at a discounted price of £134 (normal retail price £185.95).
CNP Professional is one of the UK's leading sports nutrition specialist companies. For more information visit http://www.cnpprofessional.co.uk or call +44 (0) 161 320 1212 for sports nutrition advice and +44 (0) 161 320 8145 for sales.
Triathlete Martin Cain – August 08
Press enquiries: Toni Turner or Alison Haynes at The Publicity Works
Tel: +44 (0) 1263 761000 Email: cnp @ publicityworks.biz
Paul Riley, Marketing Manager, CNP Professional: +44 (0)161 320 8145
Photography is available in a choice of formats on request from cnp @ publicityworks.biz
Martin Cain's Supplements - what he uses and what they do for him

Pro Peptide – an advanced blend of bioactive fast and slow proteins for muscle repair and recovery.
Pro Recover – a blend of high glycemic (fast-acting carbohydrates) and fast-acting proteins providing a high concentration of Branched Chain Amino Acids (BCAAs). Taken immediately after training to restore energy and aid recovery.
Pro Slam – ready to drink 86ml vial that delivers 27 grams of protein, zero carbohydrates and zero fats in a pre-workout formulation designed to delay the onset of muscle fatigue. Taken immediately before training to increase endurance.
Pro Tect – a blend of Collagen and Glucosamine, which has been scientifically proven to assist in the formation of connective tissue (joints, tendons, ligaments). Strengthens and protects joints.
Pro Lipid – healthy fats (Omega 3,6 and 9) plus cholesterol-lowering ingredients.
Pro Vital – high strength multi vitamin and mineral formula with anti oxidants.
Pro Napalm – herbal energy kick and re hydration formula.
Pro MR – a high protein, low fat meal replacement formula combining fast and slow proteins for optimum anabolic (muscle growth) and anti-catabolic (muscle sparing) effect. Probiotic organisms help maintain and promote a healthier digestive system. Glutamine in its more bio-available peptide bonded form rounds off the ideal protein formula. Complex carbohydrates and a balanced vitamin and mineral profile ensure a healthy and effective approach to dietary adjustment. Taken for nighttime protein.
CNP Professional is a leading supplier of sports nutrition supplements ranging from protein shakes, protein bars, creatine supplements, meal replacements, mass gainers, weight loss supplements and post work out shakes all designed for the ultimate in sports nutrition.
Kerry Kayes, the founder of CNP Professional is a former national bodybuilding champion. He has been involved in sports nutrition for many years and his dietary expertise has established him as 'the man in the know' to sportspeople worldwide including boxer Ricky Hatton, Sean Long of St Helen's RLFC and David Dunn of Blackburn Rovers.
CNP Professional supplements are carefully formulated to ensure that the body is able to make best use of the nutrients.
There are several articles explaining protein nutrition supplements on the CNP website - go to the home page and click on 'nutrition' under the articles section.
###