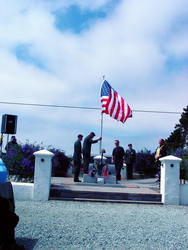 Just look for the flags
San Jose, CA (PRWEB) August 21, 2008
The USA KIA/DOW Family Foundation (USAKIA), in conjunction with J&S Surplus & Outdoor Store, a division of Eagle Emblems, and America Remembers KIA, will hold its Fourth Annual KIA Thunder Run, Military-Vehicle Show, and Swap Meet on Saturday, September 6, 2008. The event in northern California's Monterey Bay Area will be next to J&S Surplus & Outdoor Store. Major participants include Rolling Thunder and the American Legion Family. Entrance will be free and open to the public.
The store and site are located at the intersection of N. Struve Road and Highway 1 in Moss Landing. The event will have food and merchandise sales, as well as live music and military vehicles on display. Jim Gilbertson, a J&S Surplus & Outdoor owner, says, "Just look for the flags" to find the landmark store.
USAKIA benefits families of those in the U.S. military who are killed in combat. Sponsors again want to honor U.S. killed in action (KIA), died of wounds (DOW), and any member of the U.S. military, civilians, or public safety who died in the line of duty or by a terrorist act.
The event will take place the first Saturday in September for the fourth year in a row, and the California Military Vehicle Collectors Association (MVCC) will put on a military-vehicle show for the third straight year. Vendors will again have a swap meet, which will include BBQ food sales. Mostly live music will play all day, and the hour and a half ceremony will begin at noon with speakers, including the keynote speaker, Gold Star Mother Karen Meredith.
Speakers will finish before the Third Annual Raising of the Flags at 1 p.m. Ms. Gabby Cribland will again perform the National Anthem after the U.S. flag is raised. The duo Big Rain will provide live music throughout the event.
Several hundred people attend the ceremony portion every year. Motorcycle groups such as Rolling Thunder and the American Legion Riders will also participate with a "ride in," complementing the memorial. California chapter president of Rolling Thunder, Chaplain Joy Jeannette, will also speak.
About the USA KIA/DOW Family Foundation:
The USA KIA/DOW Family Foundation (USAKIA), based in San Jose, California, is an IRS-approved, tax-deductible and tax-exempt nonprofit. KIA families incorporated the 501(c)(3) organization in the fall of 2003 to benefit families of those killed in action and died of wounds while in the U.S. armed forces. Current services include memorial events, membership, and USAKIA began a project in January with a renowned artist named Rick Kelley, the KIA Families Art Project (KIAFAP), which will provide free artwork to kin of those KIA in Iraq and Afghanistan..
USAKIA opened two blogs in early 2006, Your Shield on Blogger at http://usakia.blogspot.com and USAKIA's Blog on Yahoo at http://blog.360.yahoo.com/usakiadowff. The not-for-profit corporation also began an eBay blog in late 2006, Fallen Heroes' Remembrance, at http://blogs.ebay.com/usakia, and a Newsvine column in April of 2007 at http://usakia.newsvine.com.
USAKIA also plans to provide and has had other scholarships and other projects, including a Free Flag Progra and providing free tickets to children of combat dead to San Francisco and Monterey Bay Area attractions such as California's Great America (formerly Paramount's Great America). The small nonprofit begun by KIA families also has products honoring U.S. KIA. America Remembers KIA allows USAKIA the use of its trademarked KIA flag and symbol. See the organization's Web site for further information or to make a tax-deductible donation.
###