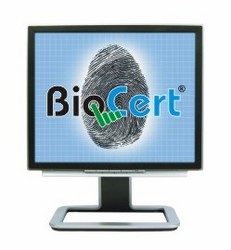 Freeland, WA (PRWEB) August 27, 2008
Providing secure access to a private venue at a very public event presents unique challenges, especially when the event is as big as the Olympic Games.
Founded in 1995 and officially sanctioned by the International Olympic Committee (IOC), the World Olympians Association (WOA) is a global organization which provides a network of over 100,000 Olympians worldwide with outreach, education, fraternal and collaboration opportunities. Each Olympian is an ambassador of their sport, their community, country and of the Olympic Movement. The WOA provides support for each of these International Ambassadors of the Olympic ideals and provides members with a secure venue at each Olympic Games known as the Olympic Reunion Center (ORC). The ORC gives Olympians from prior Olympic Games, and VIP guests with a meeting place on-site during the Olympics where they can enjoy live feeds of events, refreshments, and special events hosted especially for them. Sponsored by Visa and often dubbed "the most exclusive club in town," by OLYMPIC REVIEW and singled out as the best hospitality site at the Athens Games by Sports Illustrated, the ORC is a salute to all Olympians for their undaunted spirit, their devotion to teamwork, and their promotion of the Olympic ideals.
During this Olympic Games the ORC provided several high-profile events including press conferences for athletes such as US Gymnastics Sweetheart Nastia Liukin, The Indomitable American Swimmer Marc Phelps, and other medalists as well as functions for Olympians, VIPS, Royalty and Guests from around the world.
Preventing unauthorized access to the ORC, events and venues is a daunting task in the current global climate of increased threats to people, property, infrastructure, and the very real threat to high-profile attendees. This is where the WOA turned to security industry leader Artemis Solutions Group and its BioCert® Aegis ID System for help.
According to WOA President Dick Fosbury, a legendary Olympic Gold medalist from the 1968 Olympic Games in Mexico City and creator of the Fosbury Flop jumping technique, praised Artemis for their "state of the art technology" that provided the ORC with the "world-class security and the most technologically advanced credential system at the Olympic Games."
Artemis Solutions Group (ASG) is a Microsoft® Certified Partner specializing in the design, sales, deployment and custom solutions development of secure Personal Identification Verification (PIV) Systems incorporating biometrics, smart card and other multi-factor authentication systems. Through a world-wide network of partners, ASG is providing a complete credential management system specifically customized for ORC attendees.
"Our longstanding partnerships with our vendors and our global capabilities for customized, integrated solutions development provide us with a unique opportunity to give the WOA the ability to confidently secure their facility and validate the identity of each athlete, VIP or guest accessing the ORC throughout the Games," states James Childers, CEO of ASG. "Our BioCert Aegis ID System solutions are custom products which have a modular design and can incorporate multiple factors of authentication such as biometrics, contact or contactless smart cards, visible ID's, personal identity certificates, passwords and PIN codes for access to facilities or computer networks. With local, remote or portable authentication capabilities, any combination of these methods may be utilized and the final solution can be customized for each organizations need."
As each attendee arrived at the ORC for the first time, they were issued a secure Smart Card ID on-the-spot which allowed them to validate their identity for access to the venue. This secure ID Card incorporates an integrated chip which contains all of the information about the identity of the individual and their ability to access the facility and is designed to incorporate a biometric profile. ASG developed a solution which prints, encodes and encrypts each ID Card as it is issued as-needed. The cards were printed using an Evolis Pebble4 Smart ID Card printer and an ASG customized smart-card interface kit which connects to the Evolis printer and allows the data from the BioCert application to be encoded on the card at the same time as the card is printed.
"As a leading manufacturer of secure ID card printing solutions, Evolis is proud to partner with ASG to take up the challenge of providing highly secure badges during the Olympic Games," says Gerardo Talavera, Managing Director for the Americas of Evolis.
"The Evolis single-sided color card printer, the Pebble4, is today the most powerful and reliable solution on the market to print and encode badges. The Evolis Pebble4 Smart Card printer met all the requirements of the World Olympian Association: issuance of secure ID cards on the spot, encoding of the individual data, high-quality printing and compatibility with the interface and ID software designed by ASG," states Gerardo Talavera, Managing Director for Evolis in the Americas.
The ACOS3 Contact Smart Card manufactured by ASG partner Advanced Card Systems (ACS), is decrypted and read through the use of a portable Smart Card Reader which incorporates a decryption Security Access Module (SAM), smart card reader, LCD screen and fingerprint reader. As authorized individuals enter the ORC, their badge will be inserted into the ACR88FPU reader and their identity and access credentials will be verified by a Security Officer and the badge itself will be visually inspected as an additional security measure. The ACR88FPU incorporates a biometric reader which can be used to verify the biometric profile encoded on the card.
Through an exclusive partnership with ASG, Creative Software International (CSI) provides customization, feature enhancement, and integration services for BioCert solutions deployed by ASG. All of ASG's and CSI's programming and customization services originate in North America.
"We at CSI feel honored and privileged in contributing a portion of our efforts to providing advanced security to the Olympians facility in Beijing," says Walter A. Weiss, President of Creative Software International, Inc (CSI). "In a joint effort between our valued partners and ourselves, we are helping the continued success of this historic Olympic tradition by providing a safer environment for everyone involved."
"As a global security solutions provider, we are very happy to be working with the IOC and the WOA. We and all of our partners are proud to be able to help in securing the Olympic Reunion Center in Beijing," continues Mr. Childers.
For more information on the BioCert solutions or other biometric, smart card or ID security products sold by ASG, please contact Artemis Solutions Group at 1-800-519-8000 or visit us on the web at http://www.artemis-usa.com.
About Artemis Solutions Group:
Artemis Solutions Group (ASG Global) is a Microsoft® Certified ISV Partner specializing in the design, sales, deployment and custom solutions development of secure Identification Verification Systems incorporating biometric, smart card and other multi-factor authentication systems. ASG Global operates several subsidiary companies and web-presences in the United States, Latin America, United Kingdom and European Union. Microsoft is a registered trademark of the Microsoft Corporation and no statement of claim to this mark or inference of approval of our services by Microsoft is made by ASG Global. BioCert® is a Registered Trademark of Artemis Solutions Group, LLC in the United States and BioCert iQBio Metrics, LTD in the United Kingdom and European Union. Further information regarding our trademark usage, terms of sale, web use, Statement of User Privacy, Use of Information, and Security and other policies may be found on our website at http://www.artemis-usa.com.
About the World Olympian Association (WOA):
The World Olympians Association an international, nonprofit organization that unites the Olympians of the world and brings them together with activities and projects intended to keep the Olympic spirit alive and vibrant in the communities in which they live. The WOA supports Olympians in their lives and careers after the Olympic Games and represents their interests within the Olympic family. WOA projects range from the Olympians Reunion Center at each Olympic Games, to local community service projects to publications and cooperative ventures in support of their message and Olymplism.
About Evolis:
Evolis designs, manufactures and markets a comprehensive range of personalization systems for plastic cards. The Evolis card printers include all features for graphical, magnetic and electrical personalization (smart card, with contact or contactless - RFID) of multi-purpose cards: student ID cards, loyalty programs, transportation passes, membership cards, identity cards, employee badges, health cards, visitor badges and more. Online at http://www.evolisidprinters.com.
About CSI:
Creative Software International, Inc. is an organization specializing in custom software development services and engineering. We provide solutions in development and long term support for ongoing efforts while maintaining exceptional quality and increased time to market results. Online at http://www.creativeintl.net.
###