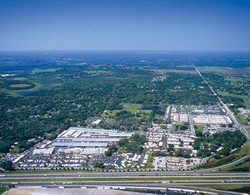 Rally Park is also a great example of Strix Systems Ultimate Hot-Zone Solution, providing high performance and 100% coverage for Wi-Fi Internet access users in RVs, campgrounds and outdoor parks
Calabasas, CA (PRWEB) August 28, 2008
Strix Systems, a worldwide leader in high-performance wireless mesh networking, today announced the deployment of Strix Hot-Zone solution for Lazydays RV SuperCenter®, the largest single-site RV dealership in North America. The network provides coverage over 100% of this 126-acre RV destination complex.
Established in 1976, Lazydays RV SuperCenter® is located on 126 acres outside Tampa, Florida, Lazydays has an 86,600 sq. ft. main building, 273 service bays, 300 RV campsites, more than 1,000 RVs on display and is the nation's largest RV Service and Collision Center processing over 25,000 RVs annually. The property is also home to a Camping World store, Cracker Barrel restaurant and Flying J RV Travel Plaza.
The Strix wireless network provides 100% coverage throughout the entire facility indoors and out, providing free high-speed wireless Internet access to customers and visitors, while also supporting critical business applications for the service organization.
RV sales consultants, on-site factory sales representatives and service personnel have instant wireless access over the network using a variety of wireless appliances including laptops, handhelds and other devices for interaction between sales representatives, service advisors, management and other personnel.
"Strix Systems wireless network gives us real-time access to our critical business applications and allows us to respond quickly to our customers' needs," said Joe Wiley, Lazydays CIO., "Having such flexibility and performance enables Lazydays to offer superior service and remain a leader in RV sales, service and customer satisfaction," he added.
Lazydays is also host to one of the nation's most popular RV destinations, "Rally Park". This RV park features 300 paved RV sites with full amenities and free wireless Internet access over the Strix wireless network. As a RallyPark customer many amenities are available without additional cost including meals, swimming pool, tennis courts and an assortment of concierge services.
"Service personnel can be literally anywhere on the property and use their Symbol PDA's to access service information" said Allen Karp, Lazydays Network Administrator "Customers mainly use laptops in their RVs and connect to the Internet, travel blogs and even IPTV," he added.
"Lazydays is truly a premium venue for RV owners," said Martin Levetin, Sr Vice President of Sales and Marketing for Strix Systems "Rally Park is also a great example of Strix Systems Ultimate Hot-Zone Solution, providing high performance and 100% coverage for Wi-Fi Internet access users in RVs, campgrounds and outdoor parks," he added.
Strix recently announced the availability of Strix Integrated Hot-Spot Systems (HSx) and "The Ultimate Hot-Zone™ Solution". For details visit: http://www.strixsystems.com/case-studies/hot-zone.asp
For Pricing, Availability and More information on Strix Ultimate Hot-Zone Solution please visit: http://www.strixsystems.com/The-Ultimate-Hot-Zone-Solution
About Strix Systems
Strix Systems is a worldwide leader in Wireless Mesh Networking, in market share (according to Heavy Reading, Infonetics and In-Stat) and technology (Iometrix). Strix's Access/One products are the industry's only modular (chassis-based) mesh systems, delivering the largest capacity, highest throughput and best scalability. This new generation of products provides the broadband mobility and reach to support voice, video, and data applications. Access/One solutions have been deployed in hundreds of networks worldwide, outdoor and indoor, for service providers, metros, public safety, government, energy, manufacturing, transportation, hospitality, education, enterprises, and residential markets. More information and for Strix Systems latest video case studies please visit http://www.strixsystems.com.
Strix Systems products and services are available worldwide through a premium partner ecosystem of distributors, service providers, resellers and systems integrators. For more information about Strix Systems Partners, please visit http://www.strixsystems.com/partners
NOTE: Strix Systems and Access/One Network are trademarks or registered trademarks, in the United States and certain other countries, of Strix Systems. Additional company and product names may be trademarks or registered trademarks of the individual companies and are respectfully acknowledged.
###