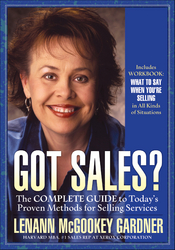 Don't let a single week go by without completing a minimum of two activities related to your Prospect List. Sometimes you can attend a meeting that is likely to put you face-to-face with targeted prospects. Failing that, you can send an article of interest, and suggest an in-person meeting to discuss matters of mutual concern
Albuquerque, NM (Vocus) September 2, 2008
Most professionals wouldn't consider themselves to be sales people, but doctors, attorneys, accountants, consultants, and other businesspeople need to sell their services and get referrals in order to be successful in business, according to Lenann McGookey Gardner, an international sales and marketing consultant.
"You might be a gifted surgeon, with a wonderful bedside manner, impeccable skills and true caring for your patients' lives and families," says Gardner. "But if your case volume, and hence income, are down, what can you do to improve your business? Developing relationships with those who can refer others to you is possible, but it requires thought about whom to approach and action to cultivate those relationships."
Here are ten tips to help improve referrals without damaging one's professional image:
Know who you'd like to have sending business your way.
"A Prospect List is a list of human beings who could send clients to you, but are not currently doing so," explains Gardner. "Writing up a list of those with whom you would like to be doing business, and reading the list daily, increases the likelihood that you will actually establish those relationships!"
Work your Prospect List.
"Don't let a single week go by without completing a minimum of two activities related to your Prospect List. Sometimes you can attend a meeting that is likely to put you face-to-face with targeted prospects. Failing that, you can send an article of interest, and suggest an in-person meeting to discuss matters of mutual concern," says Gardner.
Use the "You" word.
"When you speak with your prospects, use the 'you' word often, and the word 'I' or 'we' seldom," says Gardner. "Making the conversation more about your prospect and less about you will make conversations longer, perhaps long enough for trust to develop."
For the full list of ten tips, email Lenann@YouCanSell.com.
Lenann McGookey Gardner, a Harvard MBA and a past #1 worldwide sales rep at Xerox, offers keynote speeches on state-of-the-art selling and closing skills, executive and sales coaching for business success, and workshops. Her book Got Sales? The Complete Guide to Today's Proven Methods for Selling Services is the one guidebook highlighting all the latest research and data on what's working now in contemporary selling. More information is available at YouCanSell.com.
###