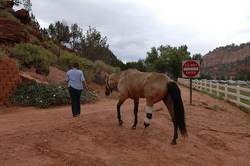 Riley has always been an amazing patient
Kanab, UT (PRWEB) September 4, 2008
Prosthesis could spare some horses from death: By Ted Brewer -- Best Friends Animal Society
It's a practice so common in the horse world that it's become a given: If a horse breaks his leg, or develops a severe infection in it, there's nothing to be done other than put him down.
That conventional wisdom, however, is being challenged by Riley, a female buckskin quarter horse living at Best Friends Animal Sanctuary in Utah.
Instead of euthanizing Riley for a severe leg infection, Best Friends gave her a second lease on life by having her leg amputated and fitted with an artificial limb. She is one of about 80 horses in the U.S. now happily living out the remainder of their lives thanks to this advance in equine medicine.
A perfect fit
When Riley arrived at Best Friends in 2004, she had a severe cut on her left hind leg. Scar tissue formed, causing her tendons to contract to such an extent that her fetlock (or ankle) was pulled out of place. The best option at the time was to surgically insert a metal plate into her leg to fuse the fetlock and straighten the leg.
For a few years, the plate helped Riley lead a decent life.
However, despite efforts to keep the leg healthy, the plate became contaminated and an infection developed around it, causing the bone to deteriorate. Removing the plate and putting in a new one wasn't feasible because it would entail removing bone that had grown around the plate, which would have destabilized the leg even more.
Jen Reid, who manages Horse Haven at Best Friends, and veterinarian Tara Timpson had run out of options for easing Riley's suffering when two volunteers at Horse Haven mentioned Ted Vlahos, a surgeon in Sheridan, Wyoming, who had successfully fitted horse amputees with artificial legs.
Reid and Timpson contacted Vlahos, who is one of three veterinarians who pioneered the procedure, and he agreed to go to Best Friends to assess whether Riley would be a good candidate for the prosthetic.
"What we wanted most was for Riley to have a good quality of life," Jen says.
To endure recovery and get accustomed to an artificial leg, a horse must have a calm temperament because post-op rehabilitation involves spending a good deal of time hoisted in a sling. If the horse is prone to anxiety, the stress incurred while in the sling could lead to colic.
The horse also needs to have a strong opposing leg because she would be bearing much of her weight on that leg until she adjusted to the prosthesis.
"Riley has always been an amazing patient," Timpson says. "We knew we needed a horse like that to be a good candidate for this procedure."
Vlahos determined that Riley fit all the criteria, and offered to perform the procedure at an extremely generous rate for the nonprofit organization. To help pay for the operation and the prosthesis, Riley was admitted into Best Friends' Guardian Angel pogram http://www.bestfriends.org/guardianangel, which helps animals in need of costly medical care. A single generous benefactor covered all of Riley's expenses.
A quick recovery
In May, Vlahos loaded Riley into his horse trailer and transported her to his clinic in Wyoming, where he amputated her leg at mid-cannon bone (just below her knee) and fitted her with a temporary prosthesis - one of three she'll receive while the swelling in her stump heals.
Not long after the procedure, she was trotting, running and even playing, as well as easily bearing the weight of Vlahos' daughter, whose birthday wish was for Riley to be well enough to ride. While in Sheridan, Riley also became something of a celebrity, stopping traffic and causing people to get out of their vehicles, gawk at, and take pictures of the horse with the titanium limb.
One week ago, Riley returned home to Best Friends. Though stiff from the long ride, she now wanders her pasture grazing, trotting and flirting.
"She's eating great," Reid says. "She takes lots of naps. She likes to flirt over the fence with her male neighbor. She's doing everything a normal horse would."
Riley the role model
Each year, thousands of horses are euthanized for reasons very similar to those that necessitated the amputation of Riley's leg. Nowhere has that fact been more apparent than at the racetrack, where Eight Belles, Barbaro and countless other thoroughbreds have been put down immediately after breaking a leg. As Riley now shows, horses' lives don't have to end that way.
"The ideal candidate for prosthesis is the thoroughbred racehorse because they're incredibly fit," Vlahos says. "We really feel that it's old school to quit on these horses."
He stresses that this procedure isn't for every horse with a broken or severely infected leg, but feels many horses can be saved from a death sentence if people simply know that the prosthesis option is there. Currently, two other veterinarians, Dr. Barrie Grant of California and Dr. Rick Redden of Kentucky, perform the procedure.
Vlahos believes that eventually the prosthesis option will become a common practice.
"We're hopeful that horses like Riley will get the word out that we don't always need to kill them," he says. "We have thousands of guys who come back from Iraq with amputated limbs. We don't throw them away, and nor should we with horses."
About Best Friends Animal Society
Located on 3,700 acres in Kanab, Utah, Best Friends Animal Society operates the country's largest sanctuary for abused and abandonded animals nd is home, on any given day, to about 2,000 dogs, cats, horses, rabbits, birds, and other animals. Best Friends works globally with animal shelters and rescue groups to bring about a time when there will be no more homeless pets. Best Friends advances initiatives nationwide that promote community approaches to making the world a better place through kindness to animals, which includes adoption, spay-neuter, and humane education programs.
Best Friends Animal Society: A better world through kindness to animals.
# # #