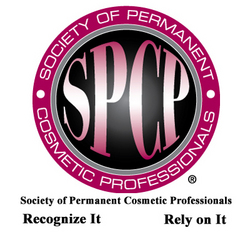 As the leading organization in permanent cosmetics, the SPCP encourages other organizations to also adopt a 100 hour minimum training standard
Des Plaines, IL (Vocus) September 3, 2008
As of September 1, 2008, the Society of Permanent Cosmetic Professionals (SPCP), the largest and foremost permanent makeup organization, requires all SPCP trainer members to provide a minimum of 100 hours of fundamental permanent cosmetic training.
The SPCP is unmatched in raising standards for fundamental training requirements, and as such is often considered an example to other organizations and used as a baseline for legislative purposes. "As the leading organization in permanent cosmetics, the SPCP encourages other organizations to also adopt a 100 hour minimum training standard," says Marjorie Grimm, CPCP, instructor who teaches the SPCP's Train the Trainer program twice yearly at SPCP events.
The time is now for all permanent cosmetic trainers, legislators, industry organizations, and prospective students to recognize the need for raising the required standards of permanent makeup training. The promotional "fast track" permanent makeup training of two and three-day classes have no place in the industry. The student has no opportunity for success under these weekend-type permanent makeup classes, and the public is put at risk by technicians with insufficient training.
Each SPCP trainer member shall meet the following criteria:

Business Setup -- Each trainer must be in compliance with all state educational statues, zoning regulations and health ordinances.
Professional Background -- Each trainer must have a high school diploma, GED or equivalent, a minimum of five years experience in the application of permanent cosmetics, and have completed a minimum of 300 procedures within each instructional venue. Certified Permanent Cosmetic Professional (CPCP) credentials and attendance of the SPCP Train the Trainer class are required prerequisites. Minimum Continued Education Units of 16 hours every two years are required of trainers.
Student Guidelines -- The student must be at least 18 years of age and have a high school diploma, GED, or equivalent to be considered for fundamental permanent cosmetics training.
Fundamental Classroom Guidelines -- Training manuals and lesson plans outlining no less than 100 study hours are submitted by trainers and reviewed by the SPCP to ensure consistent guidelines. The SPCP supports higher hourly requirements imposed by various oversight agencies, states, counties, etc.
The SPCP's greatest goal is that all who consider entering the permanent cosmetic industry recognize the need for quality training and SPCP membership. Locate an SPCP trainer member.
###