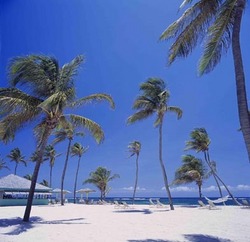 Nevis, West Indies (PRWEB) September 12, 2008
To help offset climbing airfares, Nisbet Plantation Beach Club is offering to reimburse hotel guests up to $500 toward their vacations. This fall on stays of 7 nights or more, Nisbet will apply a $500 credit at check out to help offset the cost of airfare. This limited time offer is only available for travel from October 10 through December 1, 2008.
The Airfare Credit vacation at Nisbet includes:

Luxury accommodations in any of the beautifully renovated cottages at the #1 luxury Caribbean resort according to TripAdvisor (#3 according to Condé Nast Traveler)
Daily breakfast at Coconuts, Nisbet's poolside restaurant on the beach
Afternoon tea served on the historic 1778 Great House terrace or in the library
Gourmet dinner nightly in the Great House dining room (on Thursdays dinner is a beachfront Surf & Turf BBQ with a lively local band)
Up to $500 savings to offset the cost of your airline tickets
Savings are per room, based on double occupancy. Credit is applied at checkout.
Not combinable with any other package.
For those who want a shorter stay, Nisbet is also offering savings toward airfare on:
6 nights -- $400 savings
5 nights -- $300 savings
American Airlines offers a daily direct flight from Miami to St. Kitts, beginning November 3. Until then, the flight to St. Kitts runs 3 times weekly (Sunday, Wednesday and Friday).
Nisbet will help arrange transportation from St. Kitts to Nevis; just call the hotel at 1-869-469-9325.
Make reservations by calling toll-free 1-800-742-6008 or the hotel directly at 869-469-9325. Or email Reservations@NisbetPlantation.com.
About Nisbet Plantation
Nisbet Plantation Beach Club is the Caribbean's only deluxe plantation inn located directly on the beach. It is also one of the Caribbean's historic sugar plantations and the ancestral home of Fanny Nisbet, the loving and ever-faithful wife of Britain's most famous naval hero -- Lord Admiral Horatio Nelson.
The plantation's beautifully-restored Great House, which dates from 1778, and 36 charming cottages all with modern conveniences are set in 30 acres of lush tropical foliage. The resort recently completed a multi-million dollar renovation.
Nisbet Plantation was named the #1 Luxury Resort in the Caribbean and Latin America and #6 in the World in the 2008 TripAdvisor Travelers' Choice Awards. Condé Nast Traveler's readers rank Nisbet in the top 3 of all Caribbean resorts. From AAA, Nisbet has garnered two 4-Diamond Awards -- one for the hotel and one for the Great House dining room -- one of only two air-conditioned dining venues on Nevis. If customer satisfaction is the key measure of the quality experience a guest receives, then it is important to note that Nisbet Plantation is one of the Top 10 Caribbean hotels based on reviews posted on TripAdvisor.com and one of only a handful of hotels to receive a Perfect 5.0 Rating.
For more information and reservations, visit http://www.NisbetPlantation.com or call (800) 742-6008 toll free in North America or direct to Nisbet Plantation, Nevis 869-469-9325.
About Nevis
This 36-square-mile Caribbean island lies near the top of the Lesser Antilles archipelago, about 200 miles south of Puerto Rico, and just west of Antigua. This island jewel is approximately 7 miles long and 5 miles wide, with natural vegetation that is unparalleled. Nevis is one of the remaining unspoiled places on earth. From the top of the 3,232-foot Nevis Peak created by the only shield volcano in the Caribbean, to the depths of the clear waters offshore, there is a world of flora and fauna to be explored.
###