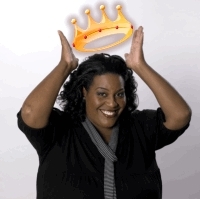 I am thrilled to be the new face of Crown Bingo and love playing on the site. I was introduced to it during my photo shoot and have been playing ever since.
Newcastle upon Tyne, UK (PRWEB) September 26, 2008
TV favourite Alison Hammond has been unveiled as the new face of Crown Bingo.
Alison's partnership with Crown Bingo starts on October 1st 2008 and will see her make guest appearances in the chat room, become one of the site's bingo callers and front the online bingo site's promotions and advertisements.
 
Alison Hammond, a popular face on daytime TV, shot to fame after being spotted on Big Brother by This Morning and seven years later she's never looked back. Alison now regularly interviews celebrity A-listers and takes part in one-off investigations for the popular daytime TV show. Alison says, "I am thrilled to be the new face of Crown Bingo and love playing on the site. I was introduced to it during my photo shoot and have been playing ever since."
 
As well as being able to select Alison as a bingo caller, Crown Bingo members will have access to exclusive web content including interviews, videos, pictures, and a behind the scenes look at the photo shoot and recording session.  All this, and more, can be seen at the Alison Hammond Crown Bingo pages.
 
Alison will be making a guest appearance at Crown Bingo on October 2nd from 8pm where all new and existing members are invited to come along and join in.  During the chat session free gifts and spot prizes can be won, including signed pictures of Alison and free bingo credit.
 
Dan Smyth, managing director, said: "Having Alison on board is fantastic news and a great addition to the Crown Bingo community.  Alison has a great personality and will be right at home with  Crown Bingo, one of the friendliest and most welcoming sites on the internet."
 
To celebrate Alison's arrival at Crown Bingo a month of new and exciting bingo promotions have been announced.  Alison's Freebie Bonanza, stretching from the 3rd to the 5th of October, will see spot prizes and gifts awarded throughout each day.  Meanwhile, Mid Month Madness will see one lucky member win a £1000 holiday.
 
The news of Alison's teaming up with Crown Bingo comes less than a week after Crown Bingo were awarded a Special Commendation in the Bingo Operator of the Year category at the 2008 eGaming Review awards, held in London on the 19th of September. 
 
More on Crown's success at the E-Gaming Review Awards and of Alison's arrival at Crown Bingo can be read at Crown's Bingo Blog
NOTE TO EDITORS:
Crown Bingo Ltd.
CrownBingo.com, established in 2005, is an internet bingo site providing 90 ball bingo and mini games tailored to the UK market.
Getting started is very simple, even for novice Internet users and there is no software to install. Crown Bingo offer a free £1 to all new players so they can test us out before making a deposit. Providing a team of dedicated Chat Masters on hand and responsive UK based customer support to help out players.
Crown Bingo is on the Virtue Fusion software platform and forms part of the Better Bingo Network.
All links to Crown Bingo must be retained for syndication of this article. Affiliates may include their affiliate tracking link. If you would like to request a tracking link please visit our Bingo Affiliate Program
###