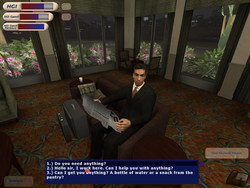 We're thrilled to take our game-based employee training program to a whole new level, or, in this case, a whole new gaming platform that is also portable, to create some of the most advanced, realistic and interactive training anywhere
Beverly Hills, CA (PRWEB) October 1, 2008
Hilton Garden Inn® today announced that it will become the world's first hotel brand to offer an intensive, interactive employee training program designed and created specifically for use on Sony Computer Entertainment Inc.'s PSP® (PlayStation®Portable) handheld entertainment system and its vibrant widescreen LCD. Now, when Hilton Garden Inn team members are caught playing with a PSP system on the job, they are met with smiles and words of encouragement.
Hilton Garden Inn, the award-winning mid-priced hotel brand with locations throughout North America and Europe, will establish itself as the hospitality leader in employee training thanks to its use of an interactive game-based technology training called Ultimate Team Play, representing their ongoing commitment to understanding the special needs of their guests.
The result is a benchmark in interactive training in the hospitality industry created especially for Hilton Garden Inn by Virtual Heroes, Inc -- a graphically-intense, 3-D, first-person video game built featuring an immersive player experience. In addition to providing employees with one of the most realistic guest simulation experiences in the industry, Hilton Garden Inn will use the new program to aggressively recruit next-generation team members grounded in technology, the Internet, entertainment and video games.
"We're thrilled to take our game-based employee training program to a whole new level, or, in this case, a whole new gaming platform that is also portable, to create some of the most advanced, realistic and interactive training anywhere," said Adrian Kurre, senior vice president - brand management for Hilton Garden Inn, who credits David Kervella, head of Hilton Garden Inn training, for spearheading the enhanced program. "Ultimate Team Play is part of our ongoing commitment to making employee training compelling and relevant, which are our two most important criteria for ensuring long-term customer service success."
The overall goal of the new program, titled HGI Ultimate Team Play for PSP®, is to show hotel team members how their actions have an impact on the hotel and on the guest's mood, which in turn drives the brand's Satisfaction and Loyalty Tracking (SALT) scores higher or lower. The game puts team members in a 3-D, graphically-intensive virtual Hilton Garden Inn hotel where they must respond to a number of different guest-related requests by a specific deadline. The appropriateness, level and speed of their response directly affect the simulated guest's satisfaction as well as the hotel's SALT scores.
SALT is the real-world survey tool used by Hilton Garden Inn to measure and track guest loyalty, satisfaction and overall experience at a particular hotel, as well as guest thoughts on the brand in general. Surveys are sent via e-mail to guests who have recently stayed at a hotel and the results of the surveys generate the SALT scores. Each survey asks the guest to rank their satisfaction on a variety of amenities and aspects of their stay.
The initial interactive training game has already been beta-tested in select Hilton Garden Inn locations in which team members have played the role of a front desk service agent. The full interactive game version is set to launch at all Hilton Garden Inn locations in January 2009 and will include positions in housekeeping, food and beverage, engineering/maintenance as well as front desk.
About Hilton Garden Inn:
Hilton Garden Inn is the award-winning, mid-priced brand that continually strives to ensure today's busy travelers have everything they need to be most productive on the road -- from complimentary wired and Wi-Fi Internet access in all guestrooms and remote printing to the hotel's complimentary 24-hour business center to one of the most comfortable beds you will ever experience with the Garden Sleep System®. So whether on the road for personal or business reasons, Hilton Garden Inn offers the amenities and services for travelers to sleep deep, stay fit, eat well, work smart and treat themselves while away from home.
To find out more about Hilton Garden Inn locations across North America and Europe or to find your next getaway, visit http://www.HGI.com.
About Hilton Hotels Corporation:
Hilton Garden Inn is part of Hilton Hotels Corporation, a leading global hospitality company, with more than 3,000 hotels and 500,000 rooms in 74 countries, with more than 135,000 team members worldwide. The company owns, manages or franchises some of the best known and highly regarded hotel brands including Hilton®, Conrad® Hotels & Resorts, Doubletree®, Embassy Suites Hotels®, Hampton Inn®, Hampton Inn & Suites®, Hilton Garden Inn®, Hilton Grand Vacations®, Homewood Suites by Hilton® and The Waldorf=Astoria Collection®.
"PlayStation" and "PSP" are registered trademarks of Sony Computer Entertainment, Inc.
# # #