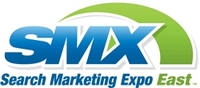 Redding, CT (PRWEB) October 3, 2008
On Tuesday, Ad Age says McCain's ahead. On Wednesday, Adweek claims Obama the clear leader. AdGooro says it more or less a dead heat.
They're not talking about traditional voter polls - they're talking about search marketing and advertising, one of the most significant pieces of both parties' campaign strategies in this election.
There's no question that this election has been dramatically shaped by the power of the internet, but how has search advertising impacted each campaign?
On October 7, at Search Marketing Expo - SMX East, attendees will have the rare opportunity to hear from representatives of both political camps, as well as the search engines themselves in a panel titled "Search and the US Presidential Campaign." Moderator Sara Holoubek will lead the discussion around strategies and tactics that have been used by each campaign to leverage search marketing to deliver their message online.
Panelists will include Mindy Finn, Partner, former director of e-Strategy for Mitt Romney '08; Eric Frenchman, Chief Internet Strategist, McCain-Palin 2008; Peter Greenberger, Team Manager, Elections & Issue Advocacy, Google; Justine Lam, Former eCampaign Director, Ron Paul 2008, Ron Paul for President; Diane Rinaldo, Political Advertising Director, Yahoo; Tracy Russo, Chief Blogger and Deputy Director of Online Communications for the John Edwards for President Campaign.
"We're going to look at the good, the bad, and the ugly, about both campaigns' websites and search strategies," she said. Holoubek pointed out that political marketing poses unique challenges for search marketers - from the 24/7 nature of a campaign to the level of public scrutiny that's involved.
Search Marketing Expo - SMX East opens at the Jacob K. Javits Convention Center on Monday, October 6 at 9 a.m., and includes three days with more than 80 sessions, two keynotes and an expo hall with its own theater area.
More than 2,000 search marketers are expected to attend the conference, which is programmed by Danny Sullivan, Chris Sherman and the team at Search Engine Land.
Those interested in attending the event can register online for just $1,395 until October 5th for an All-Access Pass, which includes sessions, keynotes, networking activities, hot lunches, and complimentary WiFi access. Registration at the door will be $1,595.
More than 50 search marketing solution providers will exhibit at SMX East. Expo hall tickets, which include access to more than 30 sessions in the SMX, are free with online pre-registration, or $50 at the door.
About SMX East and Third Door Media, Inc.:
Search Marketing Expo - SMX East is produced by Third Door Media, Inc. Third Door Media's mission is to empower internet and search marketing professionals by providing trusted content and community services they need to be successful. Other Search Marketing Expo events include SMX West, SMX Advanced, SMX Social Media Marketing, SMX Munich, and SMX London. The full list is available at the Search Marketing Expo site.
Third Door Media also publishes the search marketing news and analysis site Search Engine Land, produces Search Marketing Now, a lead-generation marketing solution for suppliers of SEM-related products and services, and Sphinn.com, the place for web, online, search, interactive and internet marketers to share news stories, talk within subject-specific discussion forums, build a network, and stay connected to hot topics in internet marketing.
# # #