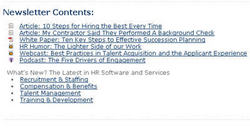 This is the first newsletter that draws content exclusively from thought leaders in the HR and employee benefits space, as well as software and services providers
Capitola, CA (PRWEB) October 3, 2008
HR executives and professionals can keep up with breaking news, research papers, podcasts and other content from industry thought leaders with News for HR, a newsletter launching this month from HRmarketer.com.
The monthly online newsletter's starting circulation includes over 70,000 opt-in HR decision-makers. Advertising opportunities are available to HR vendors. The newsletter is available at no charge from the popular marketing and PR services firm.
The debut issue, dated for September 2008, leads off with "Ten Steps for Hiring the Best Every Time," an essay from noted recruiting guru Lou Adler. Other articles include "My Contractor Said They Performed A Background Check," by Nick Fishman of employeescreenIQ; "Ten Key Steps to Effective Succession Planning," by William J. Rothwell, Ph.D. and Halogen Software; and "Best Practices in Talent Acquisition and the Applicant Experience," a webcast by Forrester Research senior analyst Zach Thomas and NowHIRE.
Rounding out the featured content is a podcast produced by Juice, Inc. on "The Five Drivers of Engagement" by Michael Ebaugh, corporate director of learning and development at Botsford Hospital in Michigan, plus a roundup of the latest in HR software and services news--including benefits, compensation, talent management, employee training and development and more.
To sign up for the newsletter, visit http://www.hrmarketer.com/users/clients/HTMLEmail/newsforhr.html
For advertising rates, contact Jonathan Goodman at jgoodman(at)hrmarketer.com.
"This is the first newsletter that draws content exclusively from thought leaders in the HR and employee benefits space, as well as software and services providers," explained Mark Willaman, founder and president of HRmarketer.com. "New white papers, podcasts and webcasts are being released every day, and this is a convenient way for HR executives to have these resources at their fingertips."
The newsletter is another product of HRmarketer.com's 2008 redesign, which includes the launch of its Human Resources Community portal. The high-tech center helps HR suppliers showcase their companies and share their expertise with professionals and decision makers. It's also become one of the industry's largest knowledge centers, with a library of over 1,000 items.
About HRmarketer.com:
HRmarketer.com is a service of Fisher Vista LLC, a marketing and information services firm focusing on the human capital and health care industries. HRmarketer.com's on-demand software combines a database of marketing and public relations (PR) opportunities with press release distribution, campaign management and content syndication services that help HR suppliers generate publicity, website traffic, sales leads and improved SEO.
This press release was distributed through eMediawire by Human Resources Marketer (HR Marketer: http://www.HRmarketer.com) on behalf of the company listed above.
###