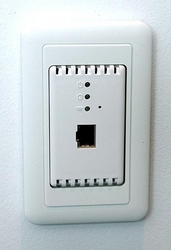 The HD24613 is a small, CAT5-powered 802.11b/g Access Point, designed for applications that have in-wall Ethernet jacks and wish to go wireless without pulling new cables, adding new power outlets, or mounting external access points in a room. The Hotel, Motel market is a perfect customer for this product
Ronkonkoma, N.Y. (PRWEB) October 7, 2008
HD Communications Corp a leading wireless electronics company today announced that its In/Wall Wi-Fi device has solved wireless range problems in several leading hotels.
Introduced late last year to the residential and educational markets the HD24613 In/Wall 802.11B/G Wi-Fi access point has now found a home in several major hotel chains. " Guests at many of these leading hotel chains listed poor Wi-Fi coverage as one of the reasons they would not return. Our IN/Wall Wi-Fi device solves poor wifi range problems and the Hotels quickly jumped on board " Said Don Davis President and CEO of HD Communications Corp.
The HD24613 is an enterprise level wireless access point that fits into the same single-gang utility box normally occupied by the Ethernet jack in a hotel or motel room. Power-over-Ethernet (PoE) powers the unit and the RJ-45 port on the front of the HD24613 means you won't have to lose the existing Ethernet jack.
" The HD24613 is a small, CAT5-powered 802.11b/g Access Point, designed for applications that have in-wall Ethernet jacks and wish to go wireless without pulling new cables, adding new power outlets, or mounting external access points in a room. The Hotel, Motel market is a perfect customer for this product " said Davis
When asked which Hotels and Motels were now using the HD24613 Davis stated " The hotel business is very competitive and we had to sign several Non disclosure agreements. We therefor can not discuss who and where but the next time you stay in a Hotel and your Wi-Fi works in your room, I guess you will know then"
" It has been a very exciting year for us. We now have several hundred custom install dealers and several OEM arrangements for this product. It is nice to be the one to have what a market needs "
Hotels and Motels interested in learning more about the HD24613 should contact the corporate office of HD Communications Corp. at ( 888 ) 588-3800 or (631) 588-3877.
About HD Communications Corp:
HD Communications Corp. is a leading provider of Wireless Network Products, Components and Systems for the wireless network (Wi-Fi), RF and microwave industries. It was established in 1991 by its founders after 15 years of employment experience working with two leading wireless companies: American Technical Ceramics and MA/COM, a Tyco Electronics company. The customer base of HD Communications Corp. now includes major electronic companies, OEMs, wireless internet service providers (WISP) and re-sellers in over 50 states and 47 countries. HD Communications Corp serves the educational, military, healthcare, consumer, re-seller and Original Equipment Manufacturer markets with its broad reach of products and services.
Individuals interested in HD Communications Corp. can find further information by visiting the company's corporate website at http://www.hdcom.com
###