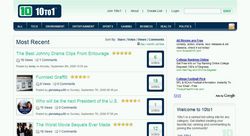 Most blogs and article sites seem static, they are lacking participation.
Phoneix, AZ (PRWEB) October 9, 2008
10to1.com, a social voting site, announces their new 10to1 Button, which provides an easy way to add voting and social networking to your site or blog. The button is one line of code that you add to your blog, website or article that quickly and easily introduces social voting and interaction to your readers. Because there is a lack of interaction on most sites, adding the 10to1 voting button quickly gives your users an easy way to give feedback on what matters to them.
Adding the button quickly changes the value of your pages and site. When users visit your page and like an article they can vote it up and share the article with others that might find it interesting. The tool is great for finding out what your users like and don't like. Blog owners can quickly tell if the articles they are writing resonate with their users.
"Most blogs and article sites seem static, they are lacking participation." said Korey Bachelder, President of 10to1, Inc. "Adding a 10to1 button to your blog will quickly allow your users to get social with only a click of the mouse. Voting is a nice step between anonymity and writing comments. People still like to be hidden on the web...this is a nice way to pull users out of the dark that may be hesitant about sharing their thoughts on your site."
Best Social Networking Site (as ranked by 10to1 users)
10. Perfspot
9. Habbo
8. Orkut
7. Hi5
6. Friendster
5. Bebo
4. Myspace
3. Facebook
2. Flixster
1. LinkedIn
10to1.com is a website destination that allows users to create, comment and vote on lists for any category. The lists become more powerful and resourceful with each vote as users collectively create the best list based on individual opinions. The company is headquartered in Chandler, Arizona.
###