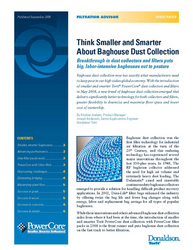 Minneapolis, MN (PRWEB) October 15, 2008
Donaldson® Torit® has published a new 6-page white paper revealing the technical advantages of smaller and smarter Torit PowerCore dust collectors and PowerCore filter packs with Ultra-Web® technology. The white paper provides detailed technical information and illustrations that show how Torit PowerCore dust collectors are 50-70% smaller than traditional baghouses while offering better filtration and less maintenance. It also explains how Torit PowerCore solves the problem of dust bridging and provides case studies with manufacturers in grain, cement, wood and plastic who have improved their dust collection and maximized plant floor space like never before.
To download the Torit PowerCore white paper, visit the case studies link at Donaldson.com/ToritPowerCore.
About Donaldson Company, Inc.
Donaldson Torit is the brand name under which Donaldson's industrial filtration products are sold. Donaldson Company, Inc. is a leading worldwide provider of air and liquid filtration systems and replacement parts that improve people's lives, enhance our Customers' equipment performance, and protect our environment. We are a technology-driven company committed to satisfying our Customers' needs for diesel engine equipment and industrial filtration solutions through innovative research and development, superior technology, and global presence. Our 13,000 employees contribute to the company's success by supporting our Customers at more than 100 sales, manufacturing, and distribution locations around the world. Donaldson is a member of the S&P MidCap 400 and Russell 1000 indices, and our shares trade on the NYSE under the symbol DCI. Additional information is available at http://www.donaldson.com.
###