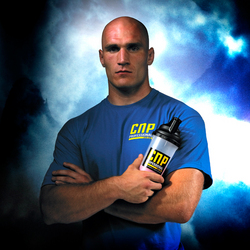 I've always been very conscious of proper nutrition
(Vocus) October 17, 2008
Leading international blindside flanker Alasdair Strokosch is now using sports nutrition supplements from CNP professional, to increase his all-round athleticism - fitness, stamina, speed and power. And since he joined Gloucester RFC last year, he's seen his career on a sharp upward path.
A Scottish international, Strokosch is now also playing a key role in Dean Ryan's Gloucester's side in the tough Guinness Premiership - and he's focusing more than ever on diet and nutrition.
"I've always been very conscious of proper nutrition," he said. "It became very important when I turned pro about 6 years ago, and food supplements started to play a big part in my diet.
"When I moved to Gloucester last year, I took my game to a new level and I wanted to be as agile and powerful as possible. My weight wasn't an issue, but it was vital I was eating and drinking right to allow my body to recover after training and matches.
"I'd seen CNP Professional in the nutrition stores and seen their advertisements, of course. But it was when hearing about Ricky Hatton and how he was relying on the supplements and the nutrition advice of Kerry Kayes [the sports nutritionist and CNP founder] that I got interested.
"I researched CNP on the internet and kept getting feedback that they had a reputation as the best around, which made me keen to get involved with them. I then got in touch with Kerry Kayes, who was very helpful and generous with his time and advice, and explained the best way to tailor his programme to my particular sport."
Strokosch has been using the CNP Professional programme for several months now, and says the results have been very satisfying:
"Since I went on the programme, no question I've noticed much less muscle soreness after training, fewer aches and pains. And I feel the quality of product is better than supplements I've used before. I need more protein without adding carbohydrates or fat, and CNP gives it to me."
But a key part of the programme, he adds, is the willing support he gets from the company. "If I've got a question, I feel I always get the right advice."
CNP Professional was started by sports nutrition and exercise guru Kerry Kayes on the belief that top flight sportsmen needed better quality protein supplements to help repair body and maximise performance potential.
"Top flight rugby players' bodies take a lot of punishment," Kerry says. "They need extra protein to help their muscles repair. To get enough extra protein from an ordinary diet would mean eating huge amounts of food and having to deal with subsequent weight issues. But a good supplement should deliver the protein in a low-calorie, easily digested formula that gives the body what it needs, when it needs it."
A key difference with most CNP supplements is that they are made with proteins formulated using a patented low-temperature processing method. This protects the protein's valuable bioactivity, which is destroyed in the high temperature processing that other protein supplements use. Being less processed also makes it easier for the body to digest.
CNP Professional is one of the UK's leading sports nutrition specialist companies. For more information visit http://www.cnpprofessional.co.uk or call +44 (0) 161 320 1212 for sports nutrition advice and +44 (0) 161 320 8145 for sales.
Press enquiries: Toni Turner or Alison Haynes at The Publicity Works
Tel: +44 (0) 1263 761000 Email: cnp @ publicityworks.biz
Paul Riley, Marketing Manager, CNP Professional: +44 (0)161 320 8145
Photography is available in a choice of formats on request from cnp @ publicityworks.biz
Notes for editors: Alasdair Strokosch's supplements and his diet program
At the heart of the training /weight-loss Kerry Kayes approach is the CNP Professional 'Pro' range of protein supplements.
Alasdair starts off in the morning with Pro-Creatine E2 on an empty stomach, followed by Pro-Lipid capsules and Pro-Peptide protein supplement, then Pro-Vital advanced multi vitamin and mineral supplement with breakfast.
Immediately before heavy training sessions he has a serving of Pro-Slam, a ready-to-drink vial that delivers 27 grams of protein without carbohydrates or fats in only 86ml. It comes in three fruit flavours and can be drunk in seconds, delivering a 'tingle' that shows it's working quickly.
Immediately after the workout he takes Pro-Recover, a recovery drink containing fast-acting carbohydrates and proteins that aid muscle repair and growth, as well as antioxidants that help to limit the muscle damage caused by intense exercise.
Between sessions he takes Pro-MR for a quick meal replacement, more Pro-Lipid with dinner, followed by Pro-Creatine E2 and Pro-Vital an hour before bed. Finally he takes more Pro-Peptide just before bed.
During the year he will vary this slightly as the season progresses, using Pro-HMB - which assists in preventing muscle breakdown during intense exercise, and Pro-GF - a creatine and nitric oxide formula that creates the ideal environment for muscle hydration and growth to take place.
CNP Professional is a leading supplier of sports nutrition supplements ranging from protein shakes, protein bars, creatine supplements, meal replacements, mass gainers, weight loss supplements and post work out shakes all designed for the ultimate in sports nutrition.
Kerry Kayes, the founder of CNP Professional is a former national bodybuilding champion. He has been involved in sports nutrition for many years and his dietary expertise has established him as 'the man in the know' to sportspeople worldwide.
CNP Professional supplements are carefully formulated to ensure that the body is able to make best use of the nutrients.
There are several articles explaining protein nutrition supplements on the CNP website - go to the home page and click on 'nutrition' under the articles section.
###