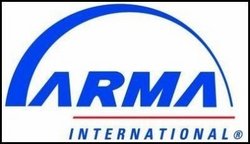 Lenexa, KS (Vocus) October 21, 2008
The winner of the ARMA International Cobalt Award was announced today at ARMA International's 53rd Annual Conference and Expo in Las Vegas, NV. New York Life Insurance Company is the first recipient of this prestigious industry award, created to recognize the shift - and its resulting advantages - when an organization becomes focused on proper records and information management at a foundational, organizational level.
New York Life, as well as all applicants, underwent a thorough judging process that included a 120+ question application which looks for clear indicators of top management support, organization-wide collaboration, solid records management practices, integrated and effective technology use, well-defined training programs for all staff, and appropriate risk management and compliance measures.
As one of three finalists, New York Life was visited by a cross-functional team of information management experts during an onsite interview. The judging panel found strong commitment to information management throughout the organization, solid executive-level support and buy-in, a commitment to ongoing training, and outstanding use of information security best practices and technological considerations. As winners of ARMA International's Cobalt Award, New York Life Insurance Company is the first to symbolize excellence in today's leading business practices.
The award is designed to recognize organizations that have achieved excellence in records and information management throughout all levels. Excellence in records and information management is demonstrated by consistent policies, procedures and practices, by financial impact, management accountability, a company culture that recognizes the impact of managing information well and more.
Organizations today are faced with changing regulations, threats to their data and security and to their client's privacy. In order to be competitive, compliant, and ready for litigation and all the challenges businesses face today it is important for an organization to understand the role that records and information management plays as a strategic asset.
When a company's actions reflect that they understand and demonstrate the importance of enterprise-wide adoption of proper records and information management procedures and realize it begins at the desk top, it is then that they have reached excellence!
For more information on ARMA International and The Cobalt Award, visit http://www.arma.org/excellence.
About ARMA International
ARMA International (http://www.arma.org)] is a not-for-profit professional association and the authority on managing records and information. It is known worldwide for setting standards and best practices, and for providing comprehensive education, publications, and information on the efficient maintenance, retrieval, and preservation of vital information created in public and private organizations in all sectors of the economy. Formed in 1955, ARMA International is the oldest and largest association for the records and information management profession with a current international membership of more than 11,000. It also publishes the award-winning Information Management Journal.
Contact: Ashley Flynn ARMA International
913.312.5561, aflynn @ arma.org
# # #