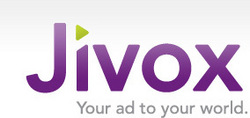 The holidays are a critical time of year for many small businesses. As consumers tighten their belts in a sagging economy, companies need to be more creative than ever to get people in the door
San Mateo, CA (PRWEB) October 29, 2008
Jivox, the online video advertising service that helps small and medium-sized businesses reach local customers, today announced a promotion that will assist Main Street businesses reach more customers with their holiday ad campaigns. Between today and December 31, 2008, advertisers that spend $500 with Jivox will receive a $500 credit for additional Jivox online video advertising. To assist companies in developing these holiday ads, Jivox has also added a new library of holiday-themed videos, images and audio to its easy to use ad creative tool. From cute and sentimental images to humorous and fun videos, this new gallery provides a range of options for small businesses to find the perfect fit for their holiday promotions.
"The holidays are a critical time of year for many small businesses. As consumers tighten their belts in a sagging economy, companies need to be more creative than ever to get people in the door," said Diaz Nesamoney, CEO of Jivox. "Taking advantage of services like Jivox to create and distribute locally targeted online video ads can help main street businesses to be competitive this holiday season."
Tips for Creating Video Ads for the Holidays
Online video advertising is growing at a faster rate than any other type of interactive marketing, with companies drawn to the medium because it can generate twice the click-through rate of banner ads. But how can smaller companies create effective, holiday-themed video ads on a budget? Jivox suggests these best practices for creating online video ads for the holidays:

Keep it simple. Simple, concise ads work best online. Viewers don't want to read large volumes of text on their computer screen. To stand out, your ad needs to be clean and concise.
Call out the benefits. Research shows that people decide if they want to read more about a topic on a website in 8 seconds or less. Ads that contain specific, immediate benefits, such as a holiday promotion or discount, resonate strongly.
Be smart about type size. Jivox recommends no more than two type sizes in one ad, with the largest type size on top. Also, never use more than two fonts and avoid using all caps.
Use relevant visuals. The visuals in a video ad should be eye catching and communicate a relevant message. Clean, simple graphics are more likely to catch the eye of the viewer.
Test and re-test. Experiment with different creative, formats and messages to find the combination that works the best. Set aside a portion of your budget to test different approaches so that you can see how response rates fluctuate when you change the visuals, call-to-action, price points or add a promotional offer.
About Jivox
Jivox helps small businesses reach customers with online video advertising. Jivox provides advertisers with an online, self-service tool to create high-impact video ads using stock footage, images, music or their existing video assets. Jivox ensures high-quality placement of customer ads through the Jivox Publisher Network, a locally focused network of premium publishers that includes hundreds of local TV and radio stations, newspapers, weather and other specialty websites, and offers geographic ad targeting at the city level as well as demographic and contextual targeting. Jivox is a privately held company based in San Mateo, Calif. For more information about Jivox, please visit http://www.jivox.com.
###